Steam/Water Analysis System (SWAS)
Modular SWAS panel solution for a reliable and safe monitoring of water and steam circuits
The SWAS panels are designed with best-in-class instrumentation to keep the integrity of your water steam circuit safe at all times and to protect your plant from corrosion and scaling. As a result, you save maintenance costs, minimize downtime and prolong the operational life for your plant. A safe data management provides proof of your water quality at all times. All SWAS panels are easy to install, to commission and to operate and can be combined as desired thanks to their modular design.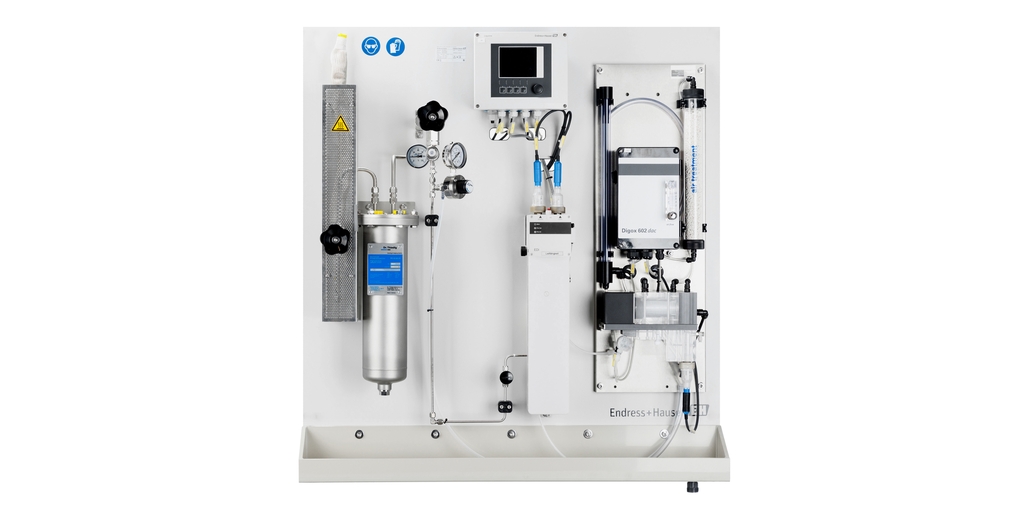 Your benefits
A longer plant lifetime, reduced maintenance costs and minimized process downtime thanks to best-in-class instrumentation

Flexible engineering for an application specific, customized solution

User-friendly documentation tools improve quality management and simplify plant asset management

Seamless system integration into existing PLCs with certified digital communication and remote capabilities

Future-proof: All parameters and worldwide support provided by one strong partner
Select the best sample preparation for your process
Depending on your measuring task, you can choose between various sample preparations for water or steam cycles. The selection of the "right" sample preparation depends on pressure, temperature, the number of parameters to be measured and the applied safety standards. Of course, custom-made sample preparation panels are available upon request. Our experienced application team supports you with the best choice for your process.
Easy maintenance, short downtimes
All panels can be equipped with Liquiline multiparameter controllers. These allow the use of pre-calibrated sensors with Memosens technology, remarkably minimizing work time inside your process. Better still, the well-thought-out operating concept and a clever log book functionality ensure maximum user-friendliness and process safety.
Measure a wide range of parameters
pH/ORP

Dissolved oxygen

Conductivity (cationic, differential and degassed)

Turbidity

Sodium, silicate, ammonium
Other parameters are available upon request
Field of applications
The SWAS panel solution monitors the steam and water quality in many industries and their utilities:
Power & Energy

Oil & Gas

Chemicals

Mining
Typical applications are:
Condensate

Boiler feed water

Steam and condensate analysis

Turbine water circuit

Ultrapure water
SWAS panels are also available for hazardous area use.
Measuring points
4-channel transmitter
Liquiline CM444

Liquiline CM444 combines best-in-class performance with clever simplicity: fast system integration, great ease-of-use and a convenient expandability save you time and money every day.

Digital conductivity sensor
Condumax CLS15D

The Condumax CLS15D sensor with Memosens is the allrounder for conductivity measurement in the low measuring ranges. Benefit from low maintenance, a long operating life and best value for money.

Digital oxygen sensor
Oxymax COS22D

The Oxymax COS22D safeguards your products, process and plant equipment from oxygen influences. It's reliable and stable measurement helps you to better monitor and control your applications.

Digital pH sensor
Orbisint CPS11D


The glass electrode with Memosens technology is the digital all-rounder for process and environmental technology. Benefit from low maintenance, a long operating life and best value for money.

Digital pH sensor
Ceraliquid CPS41D


The glass sensor with Memosens is the digital high performer for harsh chemical applications, media with low conductivity or a considerable content of organic solvents.

Digital ORP sensor
Ceraliquid CPS42D


The glass electrode is the digital high performer for harsh chemical applications, media with low conductivity or a considerable content of organic solvents.

Turbidity sensor
Turbimax CUS52D

Turbimax CUS52D is a smart inline/immersion turbidity sensor for all water production measuring points. Achieve lab quality measurement without product loss!

Ammonium analyzer
Liquiline System CA80AM

Liquiline System CA80AM is a colorimetric analyzer for the monitoring of water and wastewater treatment. Benefit from regulation-compliant measurement as well as low installation & maintenance effort.

Silica analyzer
Liquiline System CA80SI

The analyzer offers precise online silica analysis for up to six sample channels in boiler feedwater, steam and condensate. It supports you in protecting your water steam cycles and ion exchangers.
Simple products

Easy to select, install and operate
Technical excellence
Simplicity
Standard products

Reliable, robust and low-maintenance
Technical excellence
Simplicity
High-end products

Highly functional and convenient
Technical excellence
Simplicity
Specialized products

Designed for demanding applications
Technical excellence
Simplicity
FLEX selections
Technical excellence
Simplicity

Fundamental selection

Meet your basic measurement needs

Technical excellence

Simplicity

Lean selection

Handle your core processes easily

Technical excellence

Simplicity

Extended selection

Optimize your processes with innovative technologies

Technical excellence

Simplicity

Xpert selection

Master your most challenging applications

Technical excellence

Simplicity
Success stories
Keeping the turbine running

Heizkraftwerk Zwickau Süd GmbH (HKWZS) has built a new biomass power plant to supply the city of Zwickau. The plant was equipped with state-of-the-art analytical solution SWAS.
Downloads
Long live your power plant!

Modular SWAS panels for a safe water/steam cycle

Plant Asset Management

Can you react quickly to device malfunctions and failures? This is just one aspect of plant operation where our solution brings significant improvements as well as a reduction in your operating costs.

Reduce costs with reliable silicate monitoring

High efficiency steam turbines in power plants face corrosion, erosion and deposition problems. Minimize damage to your turbines from deposition with our reliable silicate monitoring solution.
Related offering
Analytical monitoring stations

From custom-made measuring cabinets and containers to fully air-conditioned measuring stations, our solutions contain all the parameters and sample preparations you need.
Sichere Trübungsmessung im Prozess- und Trinkwasser

Die Trübung ist der wichtigste kontinuierlich gemessene Qualitätsparameter in der Wasseraufbereitung. Mit Memosens-Technologie und hygienischem Design liefert der Turbimax CUS52D verlässliche Laborpräzision in allen Lagen.

Prozesswechselarmatur CPA871

Wo Sensoren zyklisch gewartet werden müssen und eine Prozessunterbrechung unmöglich ist, empfiehlt sich der Einsatz von Prozess-Wechselarmaturen.