Drinking water analysis panel
Compact analysis panel for a reliable monitoring of drinking water
Do you have to efficiently measure water quality at critical process steps in drinking water? And there is a lack of space? Then drinking water analysis panels are the right solution for your requirements. They can be installed, connected and integrated into your system in no time at all and are also very easy to use. In addition, the newly developed flow-through assembly on the panels offers space for up to four sensors and minimizes water consumption thanks to its design.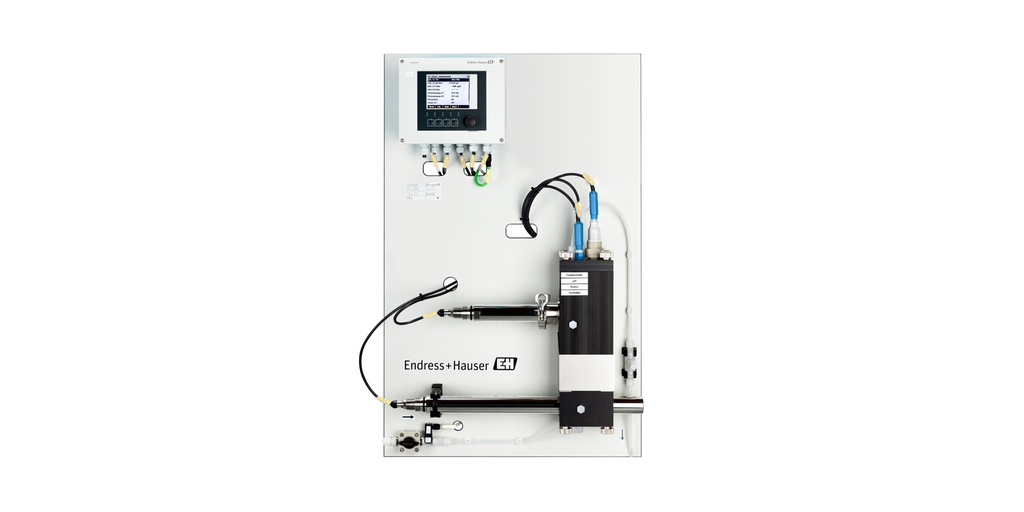 Your benefits
Up to 4 measuring points combined at one location

Individual selection from over 8 measurement parameters

The measured values, status and health of all the measuring devices are visualized in the process control center or in an app

The assembly and sensors are simple to operate, making cleaning and maintenance considerably less stressful

The installation and commissioning could not be simpler: Screw the panel onto the wall, connect it to electricity and water and off you go
Easy maintenance, short downtimes
Water analysis panels are specially designed for measuring low turbidity values in drinking water. They can monitor the measuring points fully automatically. Besides an optimal flow they offer the possibility of an automatic sensor cleaning. This combination enables measurements with particularly high reliability and accuracy, so that the system does not have to be shut down due to inaccurate measured values. In addition, this minimizes maintenance and relieves the strain on your staff.
Measure a wide range of parameters
pH/ORP

Conductivity

Dissolved oxygen

Turbidity

Chlorine
Other parameters are available upon request.
Field of application
Water analysis panels monitor a wide range of parameters in drinking water, for example in the following applications:
Drinking water

Water purification

Water distribution

Reverse osmosis
Measuring points
4-channel transmitter
Liquiline CM444

Liquiline CM444 combines best-in-class performance with clever simplicity: fast system integration, great ease-of-use and a convenient expandability save you time and money every day.

Turbidity sensor
Turbimax CUS52D

Turbimax CUS52D is a smart inline/immersion turbidity sensor for all water production measuring points. Achieve lab quality measurement without product loss!

Digital conductivity sensor
Condumax CLS21D

Condumax CLS21D is a digital conductivity sensor with outstanding high durability. It provides you with precise and reliable measuring values for an optimum process and product quality monitoring.

Digital free chlorine sensor
Memosens CCS51D

Memosens CCS51D is a robust, low-maintenance free chlorine sensor. It provides stable and fast measured values in drinking water, pool and process water as well as utilities.

Digital pH sensor
Memosens CPS31D


The glass electrode is the digital expert for pH compensation in disinfection processes. Benefit from stable measurement and a long operating life to achieve highest water quality.
Simple products

Easy to select, install and operate
Technical excellence
Simplicity
Standard products

Reliable, robust and low-maintenance
Technical excellence
Simplicity
High-end products

Highly functional and convenient
Technical excellence
Simplicity
Specialized products

Designed for demanding applications
Technical excellence
Simplicity
FLEX selections
Technical excellence
Simplicity

Fundamental selection

Meet your basic measurement needs

Technical excellence

Simplicity

Lean selection

Handle your core processes easily

Technical excellence

Simplicity

Extended selection

Optimize your processes with innovative technologies

Technical excellence

Simplicity

Xpert selection

Master your most challenging applications

Technical excellence

Simplicity
Success stories
The all-round carefree panel

Water Analysis Panels make continuous monitoring of drinking water easy at the water treatment plant in Frasnacht, Switzerland.

Controlled by Liquiline Control

Liquiline Control regulates nitrification and denitrification in the Stadtlohn wastewater treatment plant. The control system ensures compliance with limit values and optimized energy usage.

Controlled by Liquiline Control

The wastewater treatment plant in Stadtlohn (Germany) regulates phosphate removal using the Liquiline Control system. The result: stable outlet values with optimized precipitant consumption.

Trinkwasserqualität für höchste Ansprüche

Damit die Trinkwasserqualität den hohen Ansprüchen der Gesetzgebung entspricht, setzt der Zweckverband Seewasserwerk Hirsacker-Appital auf Betriebssicherheit durch kontinuierliche Messung.
Related offering
Analytical monitoring stations

From custom-made measuring cabinets and containers to fully air-conditioned measuring stations, our solutions contain all the parameters and sample preparations you need.

Analytical monitoring panels

Improve your process quality and safety with our monitoring panels. They offer you a plug and play solution that combines best fit instrumentation with expert services to simplify your measuring task.
Water analysis panel

Want to monitor water with minimum work time and maximum reliability? Check out our water analysis panels offering fast installation, state-of-the-art instrumentation and complete customization.

Sichere Trübungsmessung im Prozess- und Trinkwasser

Die Trübung ist der wichtigste kontinuierlich gemessene Qualitätsparameter in der Wasseraufbereitung. Mit Memosens-Technologie und hygienischem Design liefert der Turbimax CUS52D verlässliche Laborpräzision in allen Lagen.

Prozesswechselarmatur CPA871

Wo Sensoren zyklisch gewartet werden müssen und eine Prozessunterbrechung unmöglich ist, empfiehlt sich der Einsatz von Prozess-Wechselarmaturen.