Multiparameter-Handmessgerät
Liquiline Mobile CML18
Mobiles Messgerät für die Messung von pH/Redox, Leitfähigkeit, Sauerstoff und Temperatur in allen Branchen
Dank der digitalen Memosens-Technologie ist das Umschalten zwischen den verschiedenen Sensoren ein Kinderspiel. Das Gerät erkennt sofort, welcher Sensor angeschlossen ist, lädt automatisch die gespeicherten Sensordaten hoch und zeigt unverzüglich den korrekten Messwert. Die Sensoren können bequem im Labor kalibriert werden. Wenn Sie die Messdaten für einen längerem Zeitraum überwachen möchten - kein Problem - der Liquiline Mobile CML18 kann über 10.000 Messwerte mit Datum und Zeitstempel speichern.
Maximale Datensicherheit dank Memosens
Der Liquiline Mobile CML18 garantiert maximale Datensicherheit und liefert 100% zuverlässige Messergebnisse. Die Sensoren sind im Kopf mit einem Microprocessor ausgestattet, der die Sensorsignale in digitale Signale umwandelt. Feuchtigkeit und andere Umwelteinflüsse haben dadurch keinen Einfluss auf die Messergebnisse.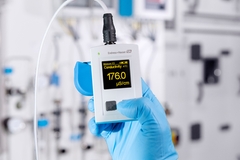 Mit der intuitiven SmartBlue App ist der Liquiline Mobile CML18 leicht zu bedienen und Sie erhalten die Werte mittels sicherer Bluetooth Übertragung auf Ihr Smartphone oder Tablet.
Datenkonsistenz zwischen Labor und Prozess
Es können die gleichen Sensoren im Labor und im Prozess verwendet werden. Das garantiert Ihnen, gleiche Messwerte. In Fällen, in denen Sie besonders schnelle Ansprechzeiten benötigen, empfehlen wir den neuen, robusten Labor pH-Sensor, Memosens CPL51E. Dieser verwendet die gleiche Memosens-Technologie wie der Prozess Sensor, wurde aber speziell für Laboranwendungen entwickelt.
Related offering
Inventory monitoring of liquids in Food & Beverage industry

Learn how Endress+Hauser inventory monitoring solutions help you manage stocks of raw materials or bulk end products at multiple sites
Simple products

Easy to select, install and operate
Technical excellence
Simplicity
Standard products

Reliable, robust and low-maintenance
Technical excellence
Simplicity
High-end products

Highly functional and convenient
Technical excellence
Simplicity
Specialized products

Designed for demanding applications
Technical excellence
Simplicity
FLEX selections
Technical excellence
Simplicity

Fundamental selection

Meet your basic measurement needs

Technical excellence

Simplicity

Lean selection

Handle your core processes easily

Technical excellence

Simplicity

Extended selection

Optimize your processes with innovative technologies

Technical excellence

Simplicity

Xpert selection

Master your most challenging applications

Technical excellence

Simplicity
Success stories
Boiler water monitoring made easy

With the SWAS Compact Panel, the continuous monitoring of quality parameters such as pH and conductivity in cheese production can be automated and simplified.

The all-round carefree panel

Water Analysis Panels make continuous monitoring of drinking water easy at the water treatment plant in Frasnacht, Switzerland.