Endress+Hauser stärkt Vertrieb in Südafrika

Moderner Bürobau in Johannesburg legt Grundstein für weiteres Wachstum
Zwei Jahre nach Baubeginn hat der Messtechnik-Spezialist in Johannesburg ein neues Vertriebsgebäude feierlich eingeweiht. Moderne Büros, Schulungsräume und ein Auditorium schaffen ein optimales Arbeitsumfeld für den Vertrieb.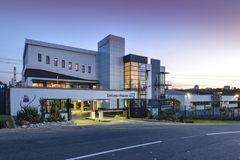 Im Beisein von Firmenchef Klaus Endress und zahlreichen Ehrengästen aus Politik und Wirtschaft wurde am 3. Oktober 2013 im Johannesburger Stadtteil Sandton der neue Hauptsitz von Endress+Hauser Südafrika eröffnet. Von den 1.500 Quadratmetern Nutzfläche stehen rund 600 ganz im Zeichen des Kundenkontakts: Ein großzügiger Empfangsbereich, Schulungsräume sowie ein Auditorium mit 100 Sitzplätzen sollen dazu beitragen, Wissen auszutauschen und Kundenbeziehungen weiter zu stärken.
Offene Architektur auf zwei Etagen
Den Mitarbeitenden bietet die offene Architektur auf zwei Etagen neben Büro- und Konferenzräumen auch Begegnungszonen und eine Cafeteria mit gedeckter Terrasse. Dieser bereits 1987 eröffnete Bau wurde im Zuge der Erweiterung zu einem leistungsfähigen Logistik- und Service-Zentrum mit Warenlager, Bereitstellungsraum, Werkstätten und Durchfluss-Kalibrierzentrum um- und ausgebaut. Beide Gebäude bieten insgesamt 3.700 Quadratmeter Nutzfläche.
Raum für weiteres Wachstum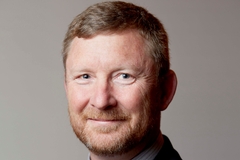 "Dieser Neubau beseitigt räumliche Engpässe und ermöglicht eine optimale Betreuung unserer Kunden", freut sich Rob MacKenzie, Geschäftsführer von Endress+Hauser Südafrika. "Damit haben wir die Voraussetzungen geschaffen, um auf dem afrikanischen Markt weiter zu wachsen." Rund 3,3 Millionen Euro wurden investiert. Auch auf eine energieeffiziente Bauweise wurde Wert gelegt: Eine ausgeklügelte Klimatisierung, Solarpanels und gesteuertes Raumlicht stehen für eine umweltfreundliche Gebäudetechnik.
Tor zum afrikanischen Kontinent
Südafrika ist für Endress+Hauser ein wichtiges Tor zum afrikanischen Kontinent. Seit 1984 ist der Spezialist für Mess- und Automatisierungstechnik mit einer eigenen Gesellschaft an Afrikas Südspitze präsent. "Heute gehören wir zu den führenden Anbietern von verfahrenstechnischen Lösungen", erklärt Rob MacKenzie. Insgesamt beschäftigt der südafrikanische Vertrieb rund 120 Menschen.
Zweigstellen, Vertriebspartner, Produktionsstätte
Neben dem Hauptsitz in Sandton garantieren Zweigstellen in vier Städten landesweit eine optimale Betreuung der Kunden. Vom Hauptquartier aus werden darüber hinaus auch Vertriebspartner in Länder südlich des Äquators unterstützt. Ganz in der Nähe befindet sich auch die erste Endress+Hauser Produktionsstätte auf dem afrikanischen Kontinent: Endress+Hauser Pyrotemp fertigt in Benoni nahe Johannesburg Temperatursensoren für die lokale Grundstoff- und Metallindustrie sowie die Petrochemie.
Downloads
Medienmitteilung

Moderner Bürobau in Johannesburg legt Grundstein für weiteres Wachstum
Related offering
Analytical monitoring panels

Improve your process quality and safety with our monitoring panels. They offer you a plug and play solution that combines best fit instrumentation with expert services to simplify your measuring task.

Bunker fuel metering systems

Day after day vast quantities of bunker oil are pumped into the fuel tanks of vessels. Even the slightest measurement inaccuracy during this loading process causes shortages in the "cash register."
Simple products

Easy to select, install and operate
Technical excellence
Simplicity
Standard products

Reliable, robust and low-maintenance
Technical excellence
Simplicity
High-end products

Highly functional and convenient
Technical excellence
Simplicity
Specialized products

Designed for demanding applications
Technical excellence
Simplicity
FLEX selections
Technical excellence
Simplicity

Fundamental selection

Meet your basic measurement needs

Technical excellence

Simplicity

Lean selection

Handle your core processes easily

Technical excellence

Simplicity

Extended selection

Optimize your processes with innovative technologies

Technical excellence

Simplicity

Xpert selection

Master your most challenging applications

Technical excellence

Simplicity
Success stories
The all-round carefree panel

Water Analysis Panels make continuous monitoring of drinking water easy at the water treatment plant in Frasnacht, Switzerland.

Reliable calibration using hydrocarbons

On the new factory calibration rig from Endress+Hauser, Wintershall Dea can now calibrate Promass F with hydrocarbons as legally mandated – a significantly cheaper option than on-site calibration.
Multiparameter-Handmessgerät
Liquiline Mobile CML18

Das neue Multiparameter Handmessgerät Liquiline Mobile CML18 ermöglicht eine einfache und zuverlässige Überwachung der Messdaten. Im Labor und im Feld, der Liquiline Mobile ist für viele Anwendungen geeignet und passt in jede Hemdtasche.