Die heiße Formel - Innovation: Schnelles kalibrieren ohne Werkzeug
iTHERM® QuickNeck hat den Dreh raus
In der Life Sciences und Lebensmittelindustrie ist die periodische Kontrolle von Messstellen erforderlich. Um Kennliniendriften durch Alterung des Sensorelements erkennen zu können, müssen diese Thermometer zyklisch rekalibriert werden. Der Aufwand für diese Vergleichsmessungen ist dabei enorm. Üblicherweise ist hierfür der Aus- und Einbau des kompletten Messeinsatzes nötig. Eine zeitaufwändige Prozedur, die zudem Gefahren von Fehlverdrahtungen birgt.
Benefits
Halsrohr mit Schnellverschluss

Werkzeugloser Austausch des Messeinsatzes

Zeit-/Kostenreduktion durch weniger Kalibrieraufwand

Vermeidung von Verdrahtungsfehlern

Vermeidung von Verdrahtungsfehlern

Sicherheit unter extremen Prozessbedingungen

Reduzierung von Anlagenstillstandszeiten
iTHERM® QuickNeck - einfach und schnell
Das neue, teilbare Halsrohr iTHERM® QuickNeck erlaubt nun den werkzeuglosen Ausbau des Messeinsatzes zu Kalibrierzwecken. Mit nur einem Dreh am Anschlusskopf lässt sich der Messeinsatz aus dem Schutzrohr ziehen und schon ist er bereit für eine In-Situ-Kalibrierung.
Sparen Sie Kosten und Zeit
Abgesehen von der erheblichen Zeitersparnis von bis zu 20 Minuten pro Messstelle, kann der Anwender so potenzielle Fehlverdrahtungen ausschließen und Anlagen-Stillstandzeiten minimieren.
iTHERM® QuickNeck erlaubt es, den Sensor ohne Prozessunterbrechung zu kalibrieren, was Zeit und Kosten spart. Bei einer Anlage mit 200 oder gar 500 Temperaturmessstellen ist der Einspareffekt und die Reduktion von Stillstandzeiten enorm.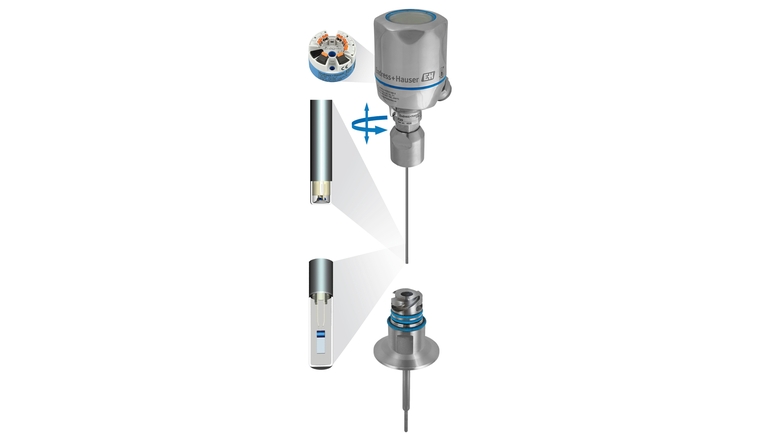 Related offering

Simple products

Easy to select, install and operate
Technical excellence
Simplicity
Standard products

Reliable, robust and low-maintenance
Technical excellence
Simplicity
High-end products

Highly functional and convenient
Technical excellence
Simplicity
Specialized products

Designed for demanding applications
Technical excellence
Simplicity
FLEX selections
Technical excellence
Simplicity

Fundamental selection

Meet your basic measurement needs

Technical excellence

Simplicity

Lean selection

Handle your core processes easily

Technical excellence

Simplicity

Extended selection

Optimize your processes with innovative technologies

Technical excellence

Simplicity

Xpert selection

Master your most challenging applications

Technical excellence

Simplicity
Sichere Trübungsmessung im Prozess- und Trinkwasser

Die Trübung ist der wichtigste kontinuierlich gemessene Qualitätsparameter in der Wasseraufbereitung. Mit Memosens-Technologie und hygienischem Design liefert der Turbimax CUS52D verlässliche Laborpräzision in allen Lagen.