Sanitary thermometers
Temperature sensors in hygienic design for sterile process applications in the life sciences, food and beverage industries
Our temperature measuring instruments and accessories in hygienic design offer highest measurement performance and comply with the strict requirements of the regulated food, beverage and life sciences industries. From fit-for-purpose compact devices to advanced modular assemblies, our comprehensive thermometer portfolio is available with a wide range of industry-standard process connections, smart temperature transmitters, thermowells as well as relevant international certificates and approvals.
Hygienic thermometers
Our product finder helps you to search for suitable measuring devices, software or system components via product characteristics. Applicator leads you through an individual product selection via application parameters.
Our sanitary thermometer offering
Compact or modular devices with/without display

Industry 4.0: Netilion cloud based IIoT ecosystem integration

Heartbeat Technology, self-calibrating RTDs

Smart temperature transmitters, Bluetooth®, device diagnostics

Hygienic process connections (clamp, metallic sealing systems, weld-in adapter, Varivent, compression fittings, ...)

Special thermowells (tee / elbow)

Fast sensor response times (t90: 1.5 s) for optimum process control

High vibration resistance (> 60g) for safe and reliable operations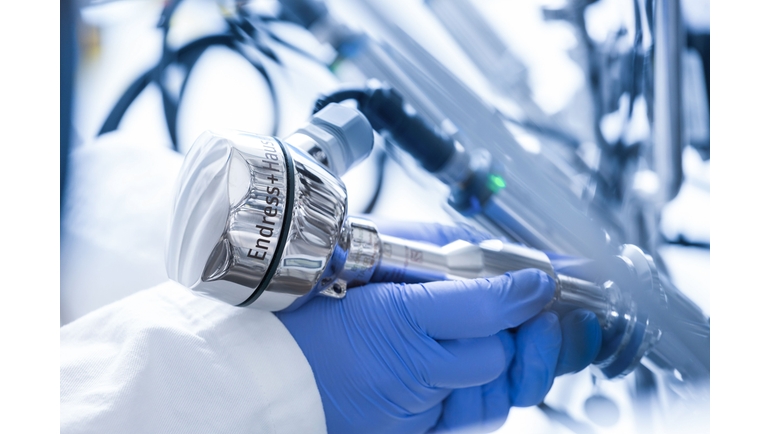 RTD sensors for temperature measurement in pipes, bioreactors, vessels or tanks are recommended for critical sterile and general applications in the life sciences and food industries. RTDs provide accurate and reliable data for safe operations in upstream, downstream, utilities, sterilization (SIP), cleaning (CIP) and production processes, including fermentation, steam generation, production of water for injection (WFI) purified water for pharmaceutical use (WPU) and more.
What is an RTD and how does it work?
Resistance temperature detectors, or RTDs, are sensors commonly made of a platinum element that experiences a change in electrical resistance when the temperature changes. RTDs for process temperature measurement are typically highly accurate and long-term stable within a temperature range of -200 °C to +600 °C. The most commonly used RTD types are Pt100 or Pt1000. As a standard, Endress+Hauser RTD sensors are at minimum Class A according to IEC 60751.
Benefits
Simplicity:

Our guided online product selection helps you find the right product and configuration for your application

Temperature measurement devices designed and engineered to promote standardization, spare parts availability, ease of maintenance

Over 50 hygienic process connections available as standard

International certificates and approvals: explosion protection as per ATEX/IECEx, EAC, CSA, FM, EAC, JPN Ex, NEPSI; hygienic design standards according to 3-A, EHEDG, ASME BPE, FDA, Food Contact Materials (FCM), TSE Certificate of Suitability

Unique technical innovations:

iTHERM QuickSens and TipSens technology: Fastest RTD response time (t90: 1.5 s)

iTHERM TrustSens: Self-calibrating, sanitary RTD for lower risk and cost in critical processes

iTHERM StrongSens: Highly robust RTD with >60g vibration resistance

iTHERM QuickNeck: Thermowell with quick-release enables tool-free and easy insert removal for recalibration

Connectivity:

4 to 20 mA, HART®, FOUNDATION Fieldbus, PROFIBUS®, PROFINET®

Secure Bluetooth® and WirelessHART®

Netilion cloud-based IIoT ecosystem integration