Schweizer Messtechnik-Spezialist baut US-Produktion aus

40 Millionen Dollar in neue Werke für Durchfluss-, Füllstand- und Druckmesstechnik investiert
Endress+Hauser will Kunden in Nord- und Südamerika künftig mit noch mehr Produkten aus US-amerikanischer Fertigung versorgen. Der Schweizer Spezialist für Messtechnik und Automatisierung hat mehr als 40 Millionen Dollar in den Ausbau seiner Werke für Durchfluss-, Füllstand- und Druckmesstechnik in Greenwood/Indiana gesteckt.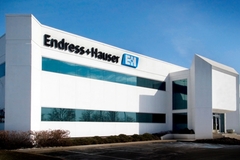 Produktion, Montage und Kalibrierung an Standorten in aller Welt hat bei Endress+Hauser System. "Wir wollen mit unserer Fertigung nahe bei den Kunden sein", sagte Klaus Endress, Chef der Endress+Hauser Gruppe, bei der Einweihung zweier Neubauten in Greenwood. "Durch diese Nähe können wir auf die besonderen Bedürfnisse des Marktes eingehen und unsere Kunden schnell und flexibel beliefern." Eine wichtige Voraussetzung sind weltweit einheitliche Qualitätsstandards.
Fertigung auf höchstem Niveau
"Wir fertigen hier in den USA auf höchstem Niveau", betonte Hans-Peter Blaser, Geschäftsführer in Greenwood. Ein Erweiterungsbau zu dem erst vor fünf Jahren bezogenen Neubau hat 8.800 Quadratmeter an zusätzlicher Fläche geschaffen. "Damit können wir die Kapazität erhöhen und zusätzliche Gerätelinien lokal produzieren." Die auf dem Kontinent einzigartigen Anlagen zur Kalibrierung von Durchflussmessgeräten wurden um modernste Technik zur Gas-Kalibrierung ergänzt.
Aufrüsten nach Jahren starken Wachstums
Das Werk für Füllstand- und Druckmesstechnik bezieht gleich nebenan einen Neubau mit 9.800 Quadratmetern Grundfläche. "Wir rüsten uns nach Jahren starken Wachstums für die Zukunft", erklärte Geschäftsführer John Schnake. Die zusätzlichen Produktionsflächen erlauben, die Fertigungsbreite zu vergrößern und zusätzliche Produkte aus dem Werk Greenwood heraus auszuliefern. Freiwerdende Produktionsflächen werden für ein neues Besucher- und Schulungszentrum der Vertriebsgesellschaft genutzt.

Amerikanisches Unternehmen mit Schweizer Wurzeln
Endress+Hauser hat seinen Marktanteil in den USA in den vergangenen Jahren stark ausgebaut. Todd Lucey, Geschäftsführer der US-Vertriebsgesellschaft, führt diesen Erfolg nicht zuletzt auf die starke Verankerung durch die lokale Fertigung zurück. "Schon bisher wurden über 80% der ausgelieferten Messgeräte in den USA produziert. Diesen Anteil können wir nun weiter ausbauen", sagte Todd Lucey, und ergänzte: "Wir sind ein durch und durch amerikanisches Unternehmen – mit starken Schweizer Wurzeln."
Seit 1970 in den Vereinigten Staaten präsent
Seit mehr als zwei Jahrzehnten produziert das Unternehmen für den US-Markt und Kanada, Mexiko, Brasilien, Chile und Argentinien. In Greenwood, wo auch das Sales Center seinen Hauptsitz hat, werden Durchfluss-, Füllstand-, Druck- und Temperaturmessgeräte gefertigt. Im kalifornischen Anaheim werden Sensoren für die Flüssigkeitsanalyse hergestellt. Die Tochter SpectraSensors in Houston, die auf Gasanalyse spezialisiert ist, betreibt ein Werk in Rancho Cucamonga.
Downloads
Medienmitteilung

Schweizer Messtechnik-Spezialist investiert 40 Millionen Dollar in neue Werke für Durchfluss-, Füllstand- und Druckmesstechnik
Related offering

Simple products

Easy to select, install and operate
Technical excellence
Simplicity
Standard products

Reliable, robust and low-maintenance
Technical excellence
Simplicity
High-end products

Highly functional and convenient
Technical excellence
Simplicity
Specialized products

Designed for demanding applications
Technical excellence
Simplicity
FLEX selections
Technical excellence
Simplicity

Fundamental selection

Meet your basic measurement needs

Technical excellence

Simplicity

Lean selection

Handle your core processes easily

Technical excellence

Simplicity

Extended selection

Optimize your processes with innovative technologies

Technical excellence

Simplicity

Xpert selection

Master your most challenging applications

Technical excellence

Simplicity
Success stories
Boiler water monitoring made easy

With the SWAS Compact Panel, the continuous monitoring of quality parameters such as pH and conductivity in cheese production can be automated and simplified.
Multiparameter-Handmessgerät
Liquiline Mobile CML18

Das neue Multiparameter Handmessgerät Liquiline Mobile CML18 ermöglicht eine einfache und zuverlässige Überwachung der Messdaten. Im Labor und im Feld, der Liquiline Mobile ist für viele Anwendungen geeignet und passt in jede Hemdtasche.