Avoid false starts!
Start-Up with Endress+Hauser...
Our customers choose Endress+Hauser Start-Up safe in the knowledge that their devices are protected with an additional year's warranty that includes complimentary commissioning within the first 6 months!

With demands on their engineering and maintenance personnel higher than ever, relying on Endress+Hauser service engineers makes sense. We're experts in delivering a thorough job in the minimum possible time. It's what we do, time and again.
Benefits
Guaranteed peace of mind.

Cost-effective use of expertise and resources.

Includes free commissioning or device integrity check as required.
You're in safe hands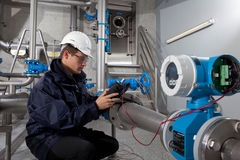 Extended warranty is provided so you can rest easy, knowing your product is protected. As part of the Start-Up, you can also have your device commissioned by a qualified Endress+Hauser engineer at no additional cost!

If you choose to commission yourself, we offer a device integrity check within the first six months to ensure everything is running as it should. You'll also receive a certificate detailing those instruments benefiting from the additional warranty.
Terms and conditions
Start-Up must be chosen at time of placing your order for new devices.

Start-Up will be invoiced with the new device and is party to similar payment conditions.

If a service tech is sent to a customer site within the first 6 months and the issue is deemed to be unrelated to warranty, the visit will be classed as a standard visit and charged as such.

If commissioning of the new device is needed, it is the customer's responsibility to supply a commissioning date so that the visit can be planned.
Offer applies to Austria only
All other countries, please refer to your local sales office for commissioning and warranty information.

Start-Up services are only available during normal working hours (Monday-Friday).