High temperature TOC analyzer CA72TOC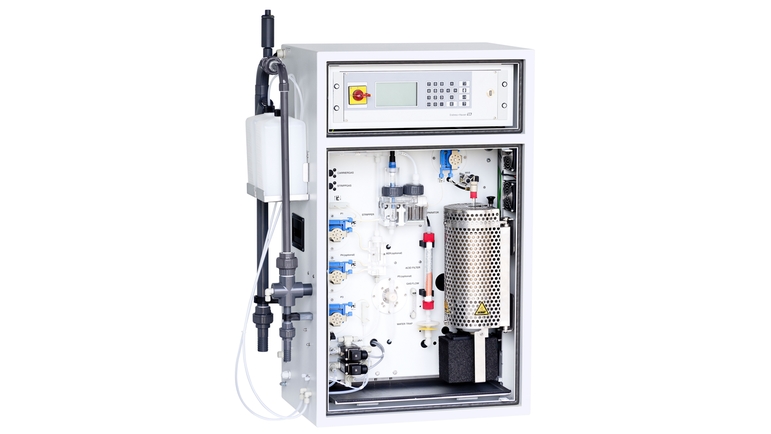 Reliable online monitoring of industrial wastewater
CA72TOC determines the total organic carbon (TOC) content in a number of industries. It measures reliably and accurately even in heavy duty applications with high loads of salt, fat or fibers. The reliable detection of product losses increases the process yield and saves money every day. Designed for long-term stability and highest availability, the CA72TOC offers maximum operational safety of your plant. Clear diagnostic messages actively support your predictive maintenance strategy.
Quick selection
Choose from our suggested options
Individual configuration
Continue your selection from all possible options
Benefits

Process optimization: Constant safeguard against product losses.


Cost savings: 2-channel version offers an excellent price-performance ratio.

Reliable discharge monitoring: Configuration for fat and grease, low pH values and organic acids.

Improved...
Field of application

CA72TOC monitors and controls:

Industrial discharge

Inlets of wastewater treatment plants

Outlets of wastewater treatment plants

Process water

Surface run-off
Documents / Manuals / Software
Accessories / Spare parts
KIT CA71 hose holder unit for pump

KIT CA71 head with rolls/perist. pump

Kit CA72xx relay and fuses

Kit CA72TOC relay and fuses

Kit CA72xx cable for pH electrode

Kit CA72xx membrane selenoid valve EPDM

Kit CA72xx membrane selenoidvalve Kalrez

Kit CA72xx tubes 2,79 violet/white

Kit CA72xx tube 0,76 black/black

Kit CA72TOC heated salt trap

Kit CA72TOC Mixing chamber

Spare part with category 1 in SFT: Basic knowledge necessary.

Kit CA72TOC Flow meter 0.2-2 L/min Air

Kit CA72TOC adapter condensate and acid

Spare part with category 2 in SFT: E+H Basic Training is a precondition!

Kit CA72TOC adapter Acidpump

Spare part with category 2 in SFT: E+H Basic Training is a precondition!

Kit CA72TOC adapter samplepump

Spare part with category 2 in SFT: E+H Basic Training is a precondition!

Kit CA72TOC Tube furnace, complete

Kit CA72TOC combustion pipe

Kit CA72TOC insert for cumbust. pipe II

Kit CA72TOC insert for cumbust. pipe I

Kit CA72TOC furnace outlet (Heat filter)

Kit CA72TOC furnace outlet, standard

Kit CA72TOC Injection 4th version

Kit CA72TOC acid trap and membran filter

Kit CA72TOC membrane filter

Kit CA72TOC wearparts strip/separating

Kit CA72TOC wearparts acid filter

Kit CA72TOC tubes for liquid group

Kit CA72TOC tubes for gas group

Spare part with category 2 in SFT: E+H Basic Training is a precondition!

Kit CA72TOC connections and fittings

Kit CA72TOC O-Rings and seals

Kit CA72TOC wearp. heater n. vol. salts

Kit CA72TOC wearp. heater volatile Salts

Kit CA72TOC maintenance tools

Kit CA72TOC volatile salt/heated filter

Kit CA72TOC volatile salt

Kit CA72TOC non volatile salt

Kit CO2 scrubber, yearly consumables

Not to use for CO2-absorber from Parker

Kit CO2 scrubber, sorbent

Not to use for CO2-absorber from Parker

Kit CO2 scrubber, filterpad

Not to use for CO2-absorber from Parker

Kit CA72xx maintenance PA-9

Kit CA72TOC Pressure switch water supply

Spare part with category 2 in SFT: E+H Basic Training is a precondition!

Kit CA72TOC watersupply 24V

Kit CA72TOC Sieve for water supply block

Kit CA72TOC Mixing chamber

Spare part with category 1 in SFT: Basic knowledge necessary.

Kit CA72TOC MV5

Spare part with category 2 in SFT: E+H Basic Training is a precondition!

Kit CA72TOC Relay 2+8

Spare part with category 2 in SFT: E+H Basic Training is a precondition!

Ceragel CPS71

pH-comb. electrode Diaphragm: Ceramic Reference system: Gel (non acrylamide), Double chamber or ion trap. Application: Hygienic, sterile process. Sterilizable; autoclavable. Conductivity: min 10uS/cm

Kit CA72TOC Restrictor carrier gas

Technical buffer solution CPY20

pH quality buffer solution, referenced to primary reference material of PTB and standard reference material of NIST. in DAkkS accredited buffer Laboratory.

Kit CA72TOC Restrictor stripp gas

CAY450 Stripp-Reagent for CA72TOC

Reagent for stripping of inorganic carbon Contains dangerous goods

CAY451 Parent Solution CA72TOC

to prepare standard solutions Contains dangerous goods

Kit CA72TOC Pump controller typ III

Kit CA72TOC Gas supply typ III