Wechsel bei Endress+Hauser

Matthias Altendorf wird neuer Chef der Firmengruppe, Klaus Endress zieht in den Verwaltungsrat ein.
Publication date: 16.12.2013
Gesamte berufliche Laufbahn bei Endress+Hauser absolviert
Neuer CEO wird Matthias Altendorf. Der 45-Jährige absolvierte seine gesamte berufliche Laufbahn bei Endress+Hauser. Sie begann mit einer Lehre als Mechaniker in Maulburg, an die sich Studium und Weiterbildungen anschlossen. Bei Endress+Hauser Flowtec in Reinach übernahm er auf unterschiedlichen Positionen immer mehr Verantwortung, bis er im Jahr 2000 als Marketing-Direktor in die Geschäftsleitung aufrückte. 2005 kehrte Altendorf schließlich als Geschäftsführer nach Maulburg zurück.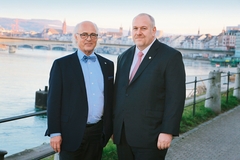 Klaus Endress (64) hatte seinen geplanten Rückzug aus dem operativen Geschäft in den vergangenen Jahren wiederholt ankündigt. Bekannt war auch, dass ihm zum jetzigen Zeitpunkt aus Altersgründen kein anderes Mitglied der Gesellschafterfamilie nachfolgen würde. "Wir wollen Diskussionen und Spekulationen vermeiden", erklärte Klaus Riemenschneider, Präsident des Verwaltungsrats. "Die frühzeitige Bekanntgabe der Nachfolgeregelung soll für Klarheit sorgen und den nahtlosen Übergang erleichtern."
"Ein Endress+Hauser Mann durch und durch"
Altendorf sei "ein Endress+Hauser Mann durch und durch", so Endress weiter. "Er steht für die Kultur, die Werte und die Überzeugungen, die unser Unternehmen ausmachen." Dies biete Gewähr für das Gelingen des Übergangs. Für Kontinuität sorgen will auch Endress selbst mit seinem Wechsel in den Verwaltungsrat. Er wird dort die Nachfolge von Präsident Klaus Riemenschneider antreten. Der 69-Jährige bekleidet dieses Amt seit 2002 und hat seinen Rückzug zum Jahresende angekündigt.
Andreas Mayr neuer Geschäftsführer in Maulburg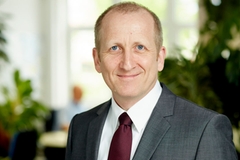 Bereits geregelt ist auch die Nachfolge von Matthias Altendorf. Dr. Andreas Mayr soll zum 01. Januar 2014 neuer Geschäftsführer des Kompetenzzentrums für Füllstand- und Druckmesstechnik werden.
Der 51-jährige promovierte Physiker ist seit 1998 bei Endress+Hauser in Maulburg tätig. Als Hauptbereichsleiter Technologie gehört er seit 2010 der Geschäftsführung an.
Receive the next press releases and news directly in your mailbox. Stay up to date by subscribing to the Endress+Hauser press list.