Mixing process water properly
Ensuring product quality through exact water temperature and quantity measurement
To meet the industry's demand for perfect process water conditions, AZO LIQUIDS has developed its own water mixing and dosing unit (WMD). To achieve this goal, the company applies complete heat balance of the entire system, instead of using a simple dosing control system based on a time profile. This integrated solution enables energy conservation and process control within tight tolerances as errors caused by heat loss at pipes, tank walls or in water vessels are compensated for.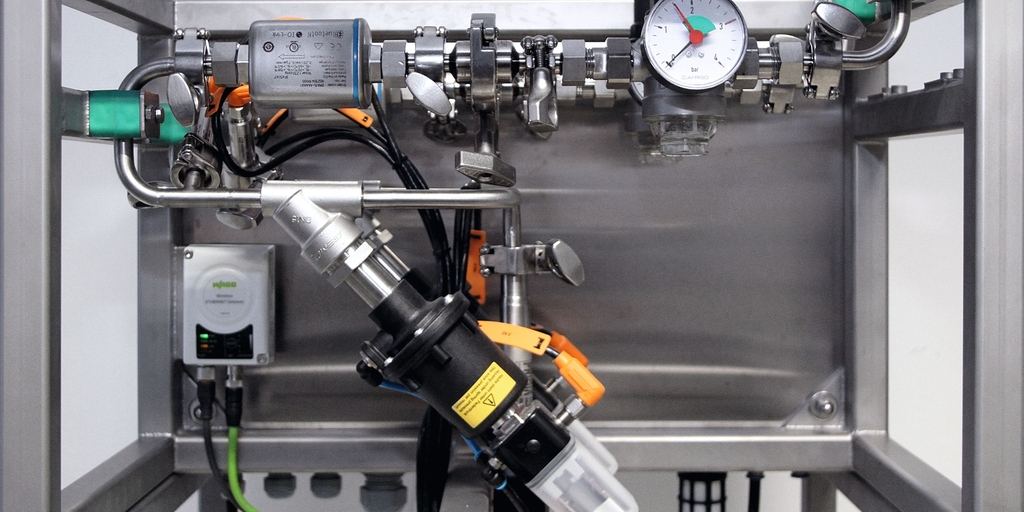 Results
Real time compensation thanks to fast response times of temperature sensors

Small footprint of the unit due to compact design of instruments

High-quality documentation and 24/7 online access via the Endress+Hauser W@M portal

The WMD unit is impressive thanks to its flexibility, set point accuracy, compactness and modular design combined with an innovative control unit and software.
Customer challenge
The WMD unit is operated using a wireless WLAN link (Wireless Ethernet Gateway 758-918) and web server via a smart phone or tablet. The control technology implemented includes various dosing valves as well as particularly fast-responding and compact measuring instruments from Endress+Hauser. Compensation of the inlet temperature, which always fluctuates in practical applications, is vital.
Fast response time for real-time compensation
With response times of under one second, the Easytemp TMR35 temperature sensor enables real-time compensation. The Picomag electromagnetic flowmeter measures conductive media flows in the water vessels, which are required for heat quantity balancing. Thanks to the compact design, two temperature sensors and two Picomag devices can be integrated in the WMD unit.
Related offering

Simple products

Easy to select, install and operate
Technical excellence
Simplicity
Standard products

Reliable, robust and low-maintenance
Technical excellence
Simplicity
High-end products

Highly functional and convenient
Technical excellence
Simplicity
Specialized products

Designed for demanding applications
Technical excellence
Simplicity
FLEX selections
Technical excellence
Simplicity

Fundamental selection

Meet your basic measurement needs

Technical excellence

Simplicity

Lean selection

Handle your core processes easily

Technical excellence

Simplicity

Extended selection

Optimize your processes with innovative technologies

Technical excellence

Simplicity

Xpert selection

Master your most challenging applications

Technical excellence

Simplicity