Utility management and energy optimization
Precise steam production and distribution monitoring saves operating and maintenance costs
Utility management objectives often include the efficient management of the steam production and distribution essential to core processes. Operational challenges include protecting the integrity of boiler equipment, control systems, and infrastructure, as well as reducing heat loss in distribution and optimizing fuel consumption and heat exchangers. Accurate and reliable measurement and monitoring enable such challenges to be overcome, and operational and maintenance efficiencies to be unlocked.
How we can help
Endress+Hauser combines a deep understanding of energy and utility management with a broad instrumentation, service and solutions offering to enable steam management with optimal efficiency and safety. Whether in ensuring the quality and supply of feedwater that is integral to the efficiency and lifespan of a boiler, in determining the accuracy of measurement results, or in identifying and quantifying losses in the steam system, we help minimize operating and maintenance costs.
Benefit from class-leading quality and reliability, plus direct access to in-house expertise and industry know-how

Optimize maintenance with local support for your daily challenges

Comply with environmental protection, energy management, as well as boiler and piping relevant standards
Learn where to measure for a more efficient process
Steam application parameters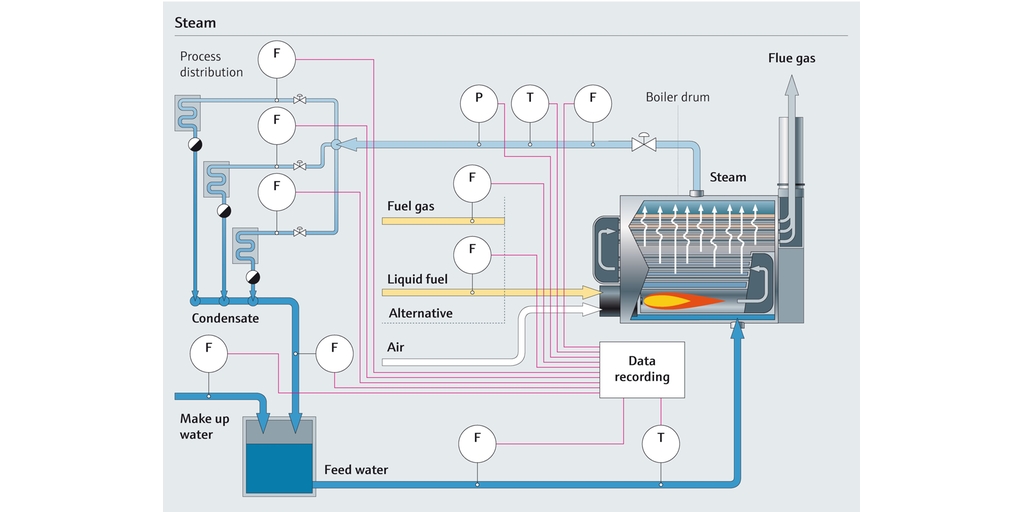 Benefits
Whether you need support for an individual instrument or a managed service contract covering a combination of products, software and solutions, you can rely on us. We aim for safe, efficient and available steam and we understand your daily challenges as Energy and Utility Managers. Serving before earning is our founder's principle and it has shaped our company to this day.
5 to 15%

is the estimated savings generated from energy management solutions

20,000

Euros saved each year with the use of economizers corresponds to the annual fuel costs of EUR 1 million.

2%

is the typical improvement of boiler efficiency for every 10°C (50°F) of feedwater temperature increase using economizers.
Efficiency

Boiler operation optimized and lifespan extended

You require effective ways to reduce the energy consumed while ensuring high availability and efficiency of your boiler. Check our accurate and reliable measuring and monitoring solutions.

Read the full story

Efficiency

Steam consumption optimized for efficiency and safety

The boiler house is where you burn the money. Steam consumption is where you waste it! Endress+Hauser is your reliable partner to help you accurately measure steam consumption and boost efficiency.

Read the full story

Efficiency

Steam distribution closely monitored for process efficiency

To solve your daily challenges Endress+Hauser offers a complete portfolio of measurement and monitoring solutions to improve the availability and efficiency of your steam distribution system.

Read the full story