Water chemistry in power plants – a critical health measure
Water is the lifeblood of a steam power plant, and its quality depends on accurate monitoring
Wherever the water in your plant comes from, it needs to be treated to be of the right quality for every use. Checking that the power plant water chemistry and flow are correct, means using the best tools. And you need to be able to prove it, by having the right readings and data trail to comply with regulations, alongside manufacturer warranties for built-in parts. Above all, accurate and reliable data means being able to safely recycle water to run your plant as efficiently as possible.
How we can help
Digital readings, data storage, reporting – digital tools take the hassle out of proving compliance and instrument warranties. Our sensors and measuring tools cover the whole range of plant needs, and generate data that makes life easy for you and your laboratory partners. They can automatically check and clean themselves, need minimal maintenance and alert you when they need replacing. From the smallest sensor to the SWAS panel, we bring you a complete digital water monitoring solution.
Reliable flow measurement and water analysis instrumentation for optimized water chemistry

Increased plant availability thanks to predictive maintenance

Non-contact digital data transmission avoids measurement errors due to moisture, corrosion and salt bridges
The water cycle in power plants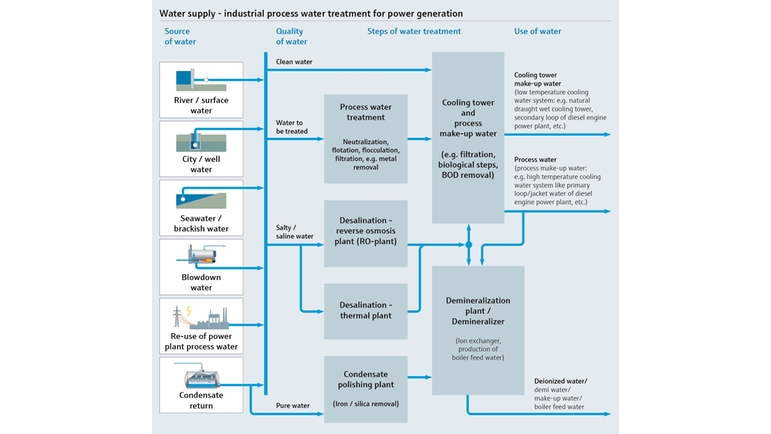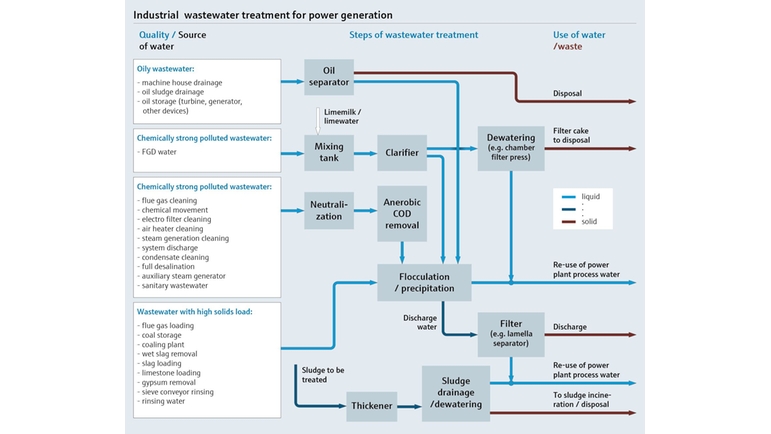 Benefits
Thanks to our extensive experience in the power & energy and water industries, amongst others, we are experts in water treatment for power generation. From process water to wastewater, Endress+Hauser offers a vast portfolio of instruments and tailored solutions to monitor the water chemistry in your power plant. Cutting-edge sensor technologies like Memosens enable you to surveil your processes even more reliably, while saving you costs and time.
> 65

years of experience in the industrial process engineering industry

> 8,000

patents and patent applications

40%

longer service life of Memosens digital sensors
Expertise

Instrument installation hook-up for your measuring equipment

Cutting cost on maintenance can bear considerable risks unless state-of-the-art technologies are employed. Be sure of proper device operation with our instrument installation hook up capabilities.

Read the full story

Efficiency

Water quality monitoring with SWAS, efficient and reliable

Corrosion and scaling are the enemies of your water steam circuit. This is why you need to find reliable solutions to keep the water chemistry in balance.

Read the full story

Safety

Hydroelectric power plant performance safely maximized

Flooding risks are usually caused by poor planning, unpredictable natural events, and equipment failure. Check our solutions for hydroelectric power plants.

Read the full story