Assembly for process photometers
OUA260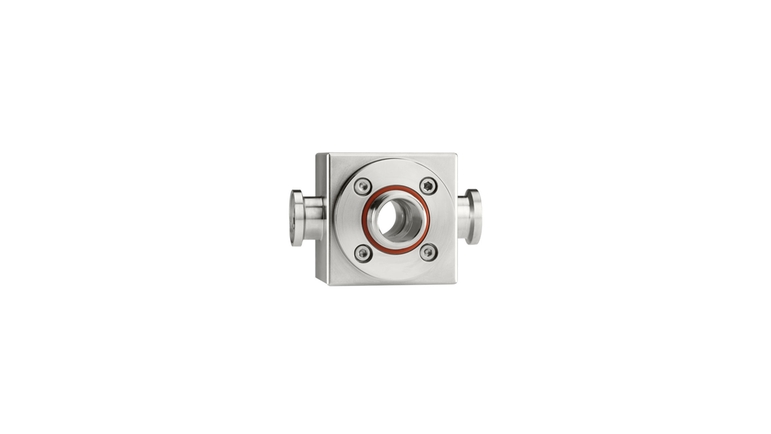 Flow assembly for a variety of optical inline measurements
OUA260 is the best-in-class flow assembly for absorption, color and turbidity measurements. Its ultra-hygienic design and certified biocompatibility meet the highest demands to protect your products reliably from contamination. Multiple process connections and available materials ensure a perfect fit and performance even in aggressive media. Better still, its low cell volume speeds up sensor response times, thus providing you with fast measuring values.

Quick selection
Choose from our suggested options
Individual configuration
Continue your selection from all possible options
Benefits

Fast measuring values thanks to low cell volume

Suitable for cleaning-in-place (CIP) and sterilization-in-place (SIP)

Certified biocompatibility according to USP class VI

Ultra-hygienic thanks to electropolished surface Ra=0.4 µm (16 µinch)

Extremely...
Field of application

The OUA260 flow cell is used in combination with:

OUSAF12 Suspended solids and color sensor

OUSAF22 Color sensor

OUSAF44 UV absorption sensor

OUSTF10 Turbidity and suspended solids sensor

Typical applications are:

Chromatography control

Filtration...
Documents / Manuals / Software
Accessories / Spare parts
For further repair or spare part inquiries

please contact your local

E+H Sales- and serviceorganisation

KIT OUA260 Window O-rings EPDM (USP)

KIT OUA260 Window O-rings Kalrez

KIT OUA260 Window O-rings Silicone

KIT OUA260 Window O-rings Viton (USP)

KIT OUA260 Window O-rings Buna "N"

KIT OUA260 Lamp and Detector O-Rings

KIT OUA260 Window Quartz 14mm

KIT OUA260 Window Quartz 16.5mm

KIT OUA260 Window Quartz 18.5mm

KIT OUA260 Window Quartz 18mm

KIT OUA260 Window Quartz 19mm

KIT OUA260 Window Quartz 21.5mm

KIT OUA260 Window Quartz 23.5mm

KIT OUA260 Window Quartz 23mm

KIT OUA260 Window Quartz 24mm

KIT OUA260 Window Quartz 31.5mm

KIT OUA260 Window Quartz 33.5mm

KIT OUA260 Window Quartz 34mm

KIT OUA260 Window Quartz 9mm

KIT OUA260 Window Sapphire 24mm

KIT OUA260 Window Sapphire 14mm

KIT OUA260 Window Sapphire 19mm

KIT OUA260 Window Sapphire 23mm

KIT OUA260 Window Borosilicate 9mm

KIT OUA260 Window Borosilicate 14mm

KIT OUA260 Window Borosilicate 16.5mm

KIT OUA260 Window Borosilicate 18mm

KIT OUA260 Window Borosilicate 19mm

KIT OUA260 Window Borosilicate 23mm

KIT OUA260 Window Borosilicate 24mm

KIT OUA260 Window Borosilicate 32.9mm

KIT OUA260 Window Borosilicate 34mm

KIT OUA260 POPL Adjustment tool

KIT OUA260 Retrofit 2mm POPL Certified

KIT OUA260 Retrofit 5mm POPL Certified

KIT OUA260 Certified POPL Gauge 0.5mm

KIT OUA260 Certified POPL Gauge 1.0mm

KIT OUA260 Certified POPL Gauge 2.0mm

KIT OUA260 Certified POPL Gauge 5.0mm

KIT OUA260 Retrofit 1mm POPL Certified

KIT OUA260 Retrofit 0.5mm POPL Certified

KIT OUA260 Retrofit 0.5mm POPL W/Air Prg

KIT OUA260 Retrofit 1mm POPL W/Air Purge

KIT OUA260 Retrofit 2mm POPL W/Air Purge

KIT OUA260 Retrofit 5mm POPL W/Air Purge