Austrians Leading Companies 2019
Endress+Hauser unter den Leading Companies in Wien
Publication date: 10.12.2019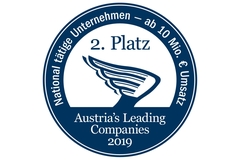 Für die Bewertung wurden unter anderem der finanzielle Erfolg, die Bonität und die Eigenkapitalsquote herangezogen. Endress+Hauser Österreich belegt den 2. Platz hinter Firma Bechtle GmbH und vor Flughafen Wien in der Kategorie "national tätige Unternehmen - Großbetriebe"
Die Preisverleihung fand bei einer Gala im Casino Baden statt, bei der zahlreiche namhafte Personen aus Politik und Wirtschaft anwesend waren. Herr Wolfgang Maurer, Geschäftsführer, und Herr Andreas Fuchs, Leiter Service, durften den Preis entgegen nehmen.
Receive the next press releases and news directly in your mailbox. Stay up to date by subscribing to the Endress+Hauser press list.