Komplettmessstrecke Dampf

Die Komplettmessstrecke für Dampf senkt die Kosten bei Planung, Inbetriebnahme und Betrieb
Publication date: 09.08.2013
Dampf ist der wichtigste Energieträger in Hilfskreisläufen vieler Branchen
-
Dabei werden rund 40% der fossilen Brennstoffe für die Dampferzeugung in Kesselsystemen verbraucht. Durch steigende Kosten für diese Erzeugung, gewinnt die Erfassung und Zuordnung der Energieströme in einem Unternehmen immer mehr an Bedeutung. Oft wird Dampf auch verkauft bzw. von Dienstleistern eingekauft. Eins haben alle gemeinsam: die Messung muss genau und zuverlässig sein, damit die Kosten im Griff bleiben.
Einfaches und individuelles Engineering
Unser Vertriebsmitarbeiter berät Sie gerne bei der Auswahl und Auslegung Ihres individuellen Dampfmesssystems. Die Basis bildet unser Auslegungsblatt mit Ihren spezifizierten Anwendungsdaten.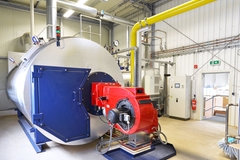 Seit Anfang 2013 gilt die Energienorm DIN EN ISO 50001. Dies gibt Unternehmen die zusätzliche Möglichkeit, mit Zertifizierung eines Energiemanagementsystems, eine Steuerersparnis bei Energien zu erhalten. Die Komplettmessstrecke Dampf unterstützt die Umsetzung dieser Ziele bei Umbau oder Neubau des Dampfsystems. Profitieren Sie von den Erfahrungen in der Dampfmesstechnik und den Möglichkeiten eines Komplettanbieters.
Optimierte Auslegung und Beratung zu den Einbaubedingungen vor Ort

Ausgewählte und abgestimmte Komponenten für höchste Messgenauigkeit, besser 1,5% vom Messwert für das Gesamtsystem

Flexibel an vielen Einbausituationen anpassbar

Vollständig vormontierte Rohrstrecke mit Messgeräten (optional Strömungsgleichrichter)

Alle Komponenten sind kundenspezifisch voreingestellt

Masse- und Energieberechnung nach anerkanntem internationalen Standard IAPWS-IF97
Hohe geprüfte Sicherheit (ATEX, PED/DGRL und optional AD2000), höhere Anlageneffizienz durch optionale Nassdampfdetektion für die Nennweiten DN25...100

Vollumfängliche Übersicht und einfache Zertifizierung durch Messstellendokumentation, Gesamtfehlerbetrachtung als fundierte Grundlage nachweisbarer Dampfabrechnungen

Vor-Ort-Prüfung ohne Prozessunterbrechung möglich , Vor-Ort-Rekalibrierung nach DIN EN ISO/IEC 17025

Langfristiges Datenmanagement der Messstellendokumentation
Receive the next press releases and news directly in your mailbox. Stay up to date by subscribing to the Endress+Hauser press list.