Wechsel im Management von Endress+Hauser Conducta

Dr. Monika Heisterkamp tritt die Nachfolge von Dr. Thomas Steckenreiter als Director Marketing an
Neuer Director Marketing bei Endress+Hauser Conducta ist seit 01. Mai 2013 Frau
Dr. Monika Heisterkamp. Die promovierte Chemikerin ist damit für die Gesamtleitung des Bereichs Marketing weltweit bei Endress+Hauser Conducta verantwortlich. Sie übernimmt die Aufgabe von Herrn Dr. Thomas Steckenreiter, der Endress+Hauser zum 30. April 2013 verlassen hat.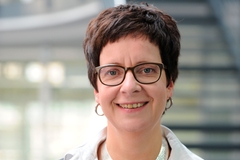 "Durch ihre jahrelange Erfahrung mit Produkten der Flüssigkeitsanalyse im internationalen Wettbewerb und in Zusammenarbeit mit allen Endress+Hauser Vertriebsgesellschaften weltweit ist Frau Dr. Monika Heisterkamp die ideale Besetzung für den Verantwortungsbereich des Director Marketing", freut sich Dr. Manfred Jagiella, Geschäftsführer von Endress+Hauser Conducta.
Vorgänger verlässt Endress+Hauser
Ihr Vorgänger Dr. Thomas Steckenreiter war seit Januar 2001 bei Endress+Hauser tätig. Im Januar 2006 übernahm er bei Endress+Hauser Conducta die Gesamtverantwortung für den Bereich Marketing. Mit seinen außerordentlichen Produkt- und Marktkenntnissen hat er in den letzten Jahren maßgeblich zur erfolgreichen Entwicklung der Conducta beigetragen. Thomas Steckenreiter hat eine neue Herausforderung bei Bayer Technology Services (BTS) in Leverkusen angenommen.
Internationale Erfahrung
Frau Dr. Monika Heisterkamp hat in Dortmund Diplom-Chemie studiert, an der Universität Antwerpen (Belgien) in analytischer Chemie promoviert und anschließend ein Jahr als wissenschaftliche Mitarbeiterin geforscht. Während der Promotion in Antwerpen war sie Gastwissenschaftlerin an der Indiana University, USA.
Seit 2004 im Team von Endress+Hauser
Ihre Karriere in der Industrie begann Frau Dr. Monika Heisterkamp 2001 als Applikationsspezialistin und Junior-Produktmanagerin für Laboranalyse-Systeme zur Materialcharakterisierung. Im Jahr 2004 wechselte sie als Produktmanagerin für Messsysteme für die Prozessanalytik zu Endress+Hauser Conducta, dem Kompetenzzentrum für Flüssigkeitsanalyse der Endress+Hauser Gruppe. Seit 2007 leitete sie dort das Produktmanagement.
Related offering
Analytical monitoring panels

Improve your process quality and safety with our monitoring panels. They offer you a plug and play solution that combines best fit instrumentation with expert services to simplify your measuring task.

Bunker fuel metering systems

Day after day vast quantities of bunker oil are pumped into the fuel tanks of vessels. Even the slightest measurement inaccuracy during this loading process causes shortages in the "cash register."
Simple products

Easy to select, install and operate
Technical excellence
Simplicity
Standard products

Reliable, robust and low-maintenance
Technical excellence
Simplicity
High-end products

Highly functional and convenient
Technical excellence
Simplicity
Specialized products

Designed for demanding applications
Technical excellence
Simplicity
FLEX selections
Technical excellence
Simplicity

Fundamental selection

Meet your basic measurement needs

Technical excellence

Simplicity

Lean selection

Handle your core processes easily

Technical excellence

Simplicity

Extended selection

Optimize your processes with innovative technologies

Technical excellence

Simplicity

Xpert selection

Master your most challenging applications

Technical excellence

Simplicity
Success stories
The all-round carefree panel

Water Analysis Panels make continuous monitoring of drinking water easy at the water treatment plant in Frasnacht, Switzerland.

Reliable calibration using hydrocarbons

On the new factory calibration rig from Endress+Hauser, Wintershall Dea can now calibrate Promass F with hydrocarbons as legally mandated – a significantly cheaper option than on-site calibration.

Advanced bioprocess control

From time consuming sample analysis to real-time monitoring of critical parameters in fermentation processes thanks to complete solutions from hardware to development and analytical services.
Multiparameter-Handmessgerät
Liquiline Mobile CML18

Das neue Multiparameter Handmessgerät Liquiline Mobile CML18 ermöglicht eine einfache und zuverlässige Überwachung der Messdaten. Im Labor und im Feld, der Liquiline Mobile ist für viele Anwendungen geeignet und passt in jede Hemdtasche.