IFS Food Version 6.0
Sie erhalten unsere Unterstützung
Seit dem 1. Juli 2012 gilt die Version 6.0 des IFS Food-Standards. Audits werden nun ausschließlich nach dem aktuellen Standard durchgeführt und akzeptiert. Wie bereits in vorherigen Versionen, sind bestimmte Anforderungen als "KO-Anforderungen" definiert, weitere Nichtkonformitäten können als "Major" bewertet werden. Beide führen zu Abzügen von der Gesamtpunktzahl des Audits.

Benefits
Messstellendefinition und Bestandsaufnahme

Erstellung von Messstellenlisten sowie Dokumentation in Papierform, elektronisch oder webbasiert als Portal

Consulting und Workshops zum Aufbau und Betrieb eines Prüfmittelmanagementsystems; Softwarebasierte Kalibriermanagementsysteme; Implementierung eines Masterplan Kalibrierung

Akkreditierte Kalibrierungen gemäß ISO/IEC 17025 sämtlicher Prozessgrößen.

Erstellung von Master- und Kalibrier-SOPs (Standard Operating Procedures)

Definition von Handlungsszenarien bei Abweichungen

Entwicklung von Ersatzteilkonzepten und Reparaturservice vor Ort oder im Werk
Neu sind einige Änderungen im Bewertungssystem: Anforderungen, die nicht umgesetzt und mit einem "D" bewertet werden, erhalten künftig nicht mehr nur 0 Punkte, sondern 20 Punkte Abzug. Dies bietet für Lebensmittelhersteller Raum für kontinuierliche Verbesserungen. Es verschärft jedoch auch das Audit hinsichtlich derjenigen Anforderungen, die nicht als "KO-Anforderung" bewertet werden.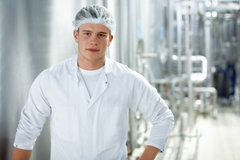 Maßnahmen zur Kalibrierung von Messgeräten
Die Liste der Auditanforderungen enthält in Kapitel 5.4 geforderte Maßnahmen zur Kalibrierung, Justierung und Prüfung von Mess- und Überwachungsgeräten. Bei der Umsetzung dieser Auditanforderungen unterstützen wir Sie mit der Erstellung von individuellen Kalibrierkonzepten sowie der Kalibrierung sämtlicher Prozessparameter nach ISO/IEC 17025.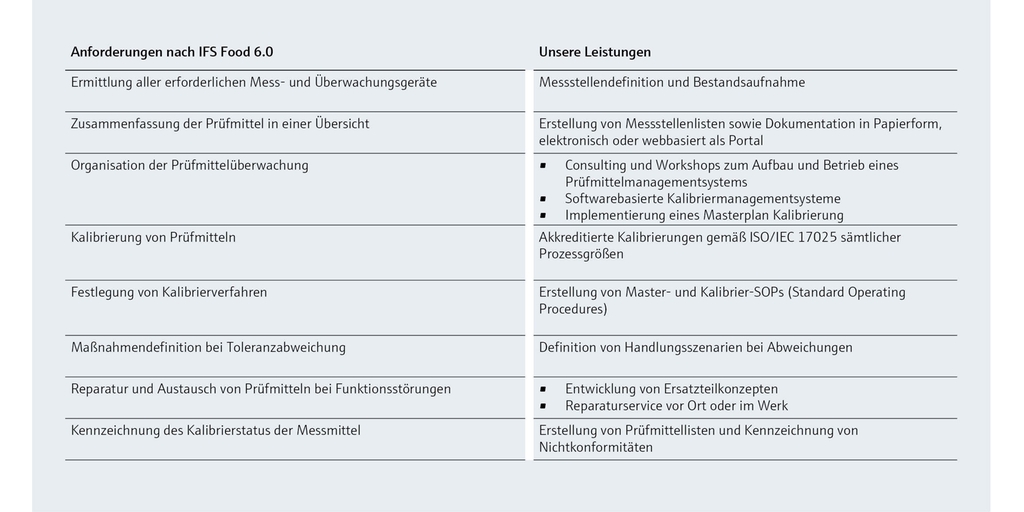 Related offering

Simple products

Easy to select, install and operate
Technical excellence
Simplicity
Standard products

Reliable, robust and low-maintenance
Technical excellence
Simplicity
High-end products

Highly functional and convenient
Technical excellence
Simplicity
Specialized products

Designed for demanding applications
Technical excellence
Simplicity
FLEX selections
Technical excellence
Simplicity

Fundamental selection

Meet your basic measurement needs

Technical excellence

Simplicity

Lean selection

Handle your core processes easily

Technical excellence

Simplicity

Extended selection

Optimize your processes with innovative technologies

Technical excellence

Simplicity

Xpert selection

Master your most challenging applications

Technical excellence

Simplicity
Success stories
Boiler water monitoring made easy

With the SWAS Compact Panel, the continuous monitoring of quality parameters such as pH and conductivity in cheese production can be automated and simplified.

Compliance made easy

The automated phosphate monitoring with Liquiline System CA80PH helps the food company Pasfrost ensure the compliance with the strict limit values for its industrial wastewater.

Energy monitoring 4.0

Hofbräuhaus installed an energy monitoring system, which relies on digitalization, with the support of Endress+Hauser.
Multiparameter-Handmessgerät
Liquiline Mobile CML18

Das neue Multiparameter Handmessgerät Liquiline Mobile CML18 ermöglicht eine einfache und zuverlässige Überwachung der Messdaten. Im Labor und im Feld, der Liquiline Mobile ist für viele Anwendungen geeignet und passt in jede Hemdtasche.