Mehr Sicherheit und Effizienz mit dem iTEMP HART® TMT82
Nach IEC 61508:2010 entwickelter Temperaturtransmitter garantiert funktionale Sicherheit über den gesamten Lebenszyklus
Der iTEMP HART® TMT82 Temperaturtransmitter ist ein hochgenauer Zwei-Kanal Transmitter mit erweiterter Diagnosefunktion. Das SIL 2/3 (Hardware/Software) Zertifikat ermöglicht die Verwendung in sicherheitstechnischen Anlagen (SIS) mit SIL 2 Level. Die SIL 3 Einstufung der Software ermöglicht eine homogene Redundanz (zwei identische Geräte) für eine SIL 3 Temperaturmessstelle.
Sparen Sie Zeit und Kosten über den gesamten Lebenszyklus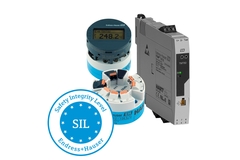 Der iTEMP TMT82 ist maßgeschneidert für Branchen wie Chemie, Öl & Gas sowie Kraftwerke & Energie. Die perfekte Lösung für die hohen Anforderungen in sicherheitstechnischen Anlagen. Durch die Vielseitigkeit des Geräts sparen Sie Kosten und Zeit: Angefangen bei der Systemintegration über die Inbetriebnahme und Wartung bis hin zur Reparatur.
Zwei Gehäuseformen mit optionalen Zubehör verfügbar
22.06.2020 - 26.06.2020

With the help of actual hands-on tasks you will learn how PROFIBUS fieldbus technology works in detail. At the end of the course you will be able to design and commission a PROFIBUS fieldbus network.