Stühlerücken bei Endress+Hauser

Wechsel an der Firmenspitze
Matthias Altendorf übernimmt als CEO zu Jahresbeginn die Leitung der Endress+Hauser Gruppe, Vorgänger Klaus Endress wird neuer Präsident des Verwaltungsrats.

Klaus Endress wird Präsident vom Verwaltungsrat
Nach 19 Jahren an der Spitze von Endress+Hauser räumt Klaus Endress in diesen Tagen sein Büro im schweizerischen Reinach. Der bisherige CEO wechselt zum 1. Januar 2014 in den Verwaltungsrat der Firmengruppe. Er löst dort Klaus Riemenschneider als Präsident ab, der nach 43 Jahren im Dienste des Unternehmens in den Ruhestand tritt.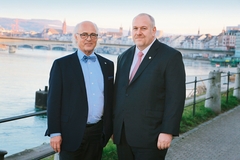 Matthias Altendorf wird neuer CEO der Firmengruppe
Neuer Chef der Firmengruppe wird Matthias Altendorf (46), bislang Geschäftsführer des Kompetenzzentrums für Füllstand- und Druckmesstechnik im süddeutschen Maulburg. Er ist in der mehr als 60-jährigen Unternehmensgeschichte erst der dritte CEO überhaupt – und der erste, der nicht der Gesellschafterfamilie angehört. Die Veränderungen in der Leitung der Firmengruppe hatte Endress+Hauser bereits im März angekündigt.
Downloads
Medienmitteilung

tthias Altendorf tritt zu Jahresbeginn als neuer CEO der Firmengruppe an, Klaus Endress wechselt in den Verwaltungsrat
22.06.2020 - 26.06.2020

With the help of actual hands-on tasks you will learn how PROFIBUS fieldbus technology works in detail. At the end of the course you will be able to design and commission a PROFIBUS fieldbus network.