Prozesswechselarmatur CPA871
Einfach, sicher, wirtschaftlich
Wo Sensoren zyklisch gewartet werden müssen und eine Prozessunterbrechung unmöglich ist, empfiehlt sich der Einsatz von Prozess-Wechselarmaturen. Der Fokus bei der Entwicklung der Armatur Cleanfit CPA871 lag auf der Sicherheit für Prozess und Betreiber sowie auf einer einfachen, sicheren Bedienung. So ist die handbediente Variante bis 8 bar Prozessdruck bedienbar, die pneumatische Variante erlaubt den Betrieb bis 16 bar Prozessdruck.
Intelligente Konstruktion verhindert Bedienfehler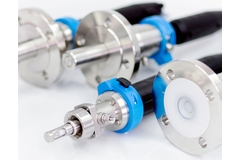 Prozess-Wechselarmaturen erlauben während des laufenden Prozesses die Wartung oder den Austausch der eingebauten Sensorik. Ist kein Sensor in die Armatur eingeschraubt, verhindert eine mechanische Sperre das Verfahren der Armatur in die Messposition und damit einen direkten Mediumsaustritt. Mensch und Umwelt werden durch diese Eigenschaft geschützt.
Erhöhte Sicherheit beim Betrieb
Die Schutzkappe dient nicht nur dem Schutz der Elektrode vor mechanischer Belastung. In Messposition ist die Schutzkappe teilweise in den Armaturenkörper eingefahren und kann nicht entfernt werden. Dadurch gibt es in Messposition keinen Zugang zum Sensor und ein Ausbau des Sensors ist unmöglich.
Einfach anpassbar an Ihren Prozess
Verschiedene unterschiedliche Prozessanschlüsse gehören natürlich zum Standard dieser Armatur genauso wie unterschiedliche Eintauchtiefen und verschiedene prozessberührte Materialien. Dies sowie die Möglichkeit, die Armatur per Hand oder mit Hilfe von Pneumatik zu verfahren, ermöglichen es, einfach die richtige Variante für den Prozess auszuwählen.
Related offering

Simple products

Easy to select, install and operate
Technical excellence
Simplicity
Standard products

Reliable, robust and low-maintenance
Technical excellence
Simplicity
High-end products

Highly functional and convenient
Technical excellence
Simplicity
Specialized products

Designed for demanding applications
Technical excellence
Simplicity
FLEX selections
Technical excellence
Simplicity

Fundamental selection

Meet your basic measurement needs

Technical excellence

Simplicity

Lean selection

Handle your core processes easily

Technical excellence

Simplicity

Extended selection

Optimize your processes with innovative technologies

Technical excellence

Simplicity

Xpert selection

Master your most challenging applications

Technical excellence

Simplicity
Success stories
The all-round carefree panel

Water Analysis Panels make continuous monitoring of drinking water easy at the water treatment plant in Frasnacht, Switzerland.

Controlled by Liquiline Control

Liquiline Control regulates nitrification and denitrification in the Stadtlohn wastewater treatment plant. The control system ensures compliance with limit values and optimized energy usage.

Controlled by Liquiline Control

The wastewater treatment plant in Stadtlohn (Germany) regulates phosphate removal using the Liquiline Control system. The result: stable outlet values with optimized precipitant consumption.

Trinkwasserqualität für höchste Ansprüche

Damit die Trinkwasserqualität den hohen Ansprüchen der Gesetzgebung entspricht, setzt der Zweckverband Seewasserwerk Hirsacker-Appital auf Betriebssicherheit durch kontinuierliche Messung.
Sichere Trübungsmessung im Prozess- und Trinkwasser

Die Trübung ist der wichtigste kontinuierlich gemessene Qualitätsparameter in der Wasseraufbereitung. Mit Memosens-Technologie und hygienischem Design liefert der Turbimax CUS52D verlässliche Laborpräzision in allen Lagen.

Water monitoring saves lives

Water is increasingly being considered a valuable product in most countries. Therefore, the acceptance for water wastage is continuously decreasing and the need to control the water quality is rising.