Richtlinien schnell, genau und einfach überwachen
Endress+Hauser bringt ein neues colorimetrisches Analysesystem für Ammonium auf den Markt. Liquiline System CA80AM analysiert hochpräzise an allen kritischen Kontrollpunkten der Wasser- oder Abwasseraufbereitung.
Präzise wie im Labor, online schneller verfügbar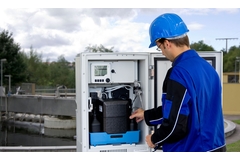 Der colorimetrische Ammoniumanalysator Liquiline System CA80AM verwendet mit der Indophenol-Blau-Methode das gesetzeskonforme colorimetrische Standardprinzip. Damit kann sich das Betriebspersonal der Kläranlage auf hochpräzise Ammoniummessung nach ISO 7150-1, DIN 38406-5 und GB 7481-87 verlassen. Im Vergleich zu den üblichen Labormessungen liefert das Online Liquiline System CA80AM die Werte jedoch viel schneller.
Dies bedeutet: bessere Reaktion auf unterschiedliche Ammoniumkonzentration am Einlauf und genaue Feinabstimmung des Belüftungssystems im Belebungsbecken. Am Auslauf hilft der CA80AM, die regelkonformen Ammoniumwerte zu erreichen und die erforderlichen Nachweise für die Wasserbehörden zu liefern.
22.06.2020 - 26.06.2020

With the help of actual hands-on tasks you will learn how PROFIBUS fieldbus technology works in detail. At the end of the course you will be able to design and commission a PROFIBUS fieldbus network.