Komplettmessstrecke Dampf

Die Komplettmessstrecke für Dampf senkt die Kosten bei Planung, Inbetriebnahme und Betrieb
Dampf ist der wichtigste Energieträger in den Hilfskreisläufen vieler Branchen.
Dabei werden rund 40% der fossilen Brennstoffe für die Dampferzeugung in Kesselsystemen verbraucht. Durch steigende Kosten für diese Erzeugung, gewinnt die Erfassung und Zuordnung der Energieströme in einem Unternehmen immer mehr an Bedeutung. Oft wird Dampf auch verkauft bzw. von Dienstleistern eingekauft. Eins haben alle gemeinsam: die Messung muss genau und zuverlässig sein, damit die Kosten im Griff bleiben.

Benefits
Optimierte Auslegung und Beratung zu den Einbaubedingungen vor Ort


Ausgewählte und abgestimmte Komponenten für höchste Messgenauigkeit, besser 1,5% vom Messwert für das Gesamtsystem


Flexibel an vielen Einbausituationen anpassbar


Vollständig vormontierte Rohrstrecke mit Messgeräten (optional Strömungsgleichrichter)


Alle Komponenten sind kundenspezifisch voreingestellt


Masse- und Energieberechnung nach anerkanntem internationalen Standard IAPWS-IF97


Hohe geprüfte Sicherheit (ATEX, PED/DGRL und optional AD2000), höhere Anlageneffizienz durch optionale Nassdampfdetektion für die Nennweiten DN25...100


Vollumfängliche Übersicht und einfache Zertifizierung durch Messstellendokumentation, Gesamtfehlerbetrachtung als fundierte Grundlage nachweisbarer Dampfabrechnungen


Vor-Ort-Prüfung ohne Prozessunterbrechung möglich , Vor-Ort-Rekalibrierung nach DIN EN ISO/IEC 17025


Langfristiges Datenmanagement der Messstellendokumentation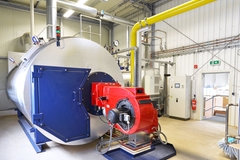 Seit Anfang 2013 gilt die Energienorm DIN EN ISO 50001. Dies gibt Unternehmen die zusätzliche Möglichkeit, mit Zertifizierung eines Energiemanagementsystems, eine Steuerersparnis bei Energien zu erhalten. Die Komplettmessstrecke Dampf unterstützt die Umsetzung dieser Ziele bei Umbau oder Neubau des Dampfsystems. Profitieren Sie von den Erfahrungen in der Dampfmesstechnik und den Möglichkeiten eines Komplettanbieters.
Einfaches und individuelles Engineering
Unser Vertriebsmitarbeiter berät Sie gerne bei der Auswahl und Auslegung Ihres individuellen Dampfmesssystems. Die Basis bildet unser Auslegungsblatt mit Ihren spezifizierten Anwendungsdaten.

Simple products

Easy to select, install and operate
Technical excellence
Simplicity
Standard products

Reliable, robust and low-maintenance
Technical excellence
Simplicity
High-end products

Highly functional and convenient
Technical excellence
Simplicity
Specialized products

Designed for demanding applications
Technical excellence
Simplicity
FLEX selections
Technical excellence
Simplicity

Fundamental selection

Meet your basic measurement needs

Technical excellence

Simplicity

Lean selection

Handle your core processes easily

Technical excellence

Simplicity

Extended selection

Optimize your processes with innovative technologies

Technical excellence

Simplicity

Xpert selection

Master your most challenging applications

Technical excellence

Simplicity
Success stories

Sichere Trübungsmessung im Prozess- und Trinkwasser

Die Trübung ist der wichtigste kontinuierlich gemessene Qualitätsparameter in der Wasseraufbereitung. Mit Memosens-Technologie und hygienischem Design liefert der Turbimax CUS52D verlässliche Laborpräzision in allen Lagen.

Service, das sich auszahlt

Unsere zehn Servicetechniker im Außendienst sind immer in Ihrer Nähe und stehen Ihnen mit einer breiten Palette an Dienstleistungen zur Seite.