Endress+Hauser plant Übernahme von Kaiser Optical Systems

Raman-Technologie soll das Analyse-Angebot stärken
Der Schweizer Spezialist für Prozessmesstechnik hat eine entsprechende Vereinbarung mit dem Mutterkonzern Rockwell Collins geschlossen. Die Transaktion soll in den nächsten Monaten abgeschlossen werden.

Kaiser Optical Systems ist weltweit führend auf dem Gebiet spektrografischer Messgeräte und angewandter holografischer Verfahren. Hauptprodukte sind unter anderem Raman-Sensoren und -Geräte, innovative holografische Komponenten für Spektroskopie, Telekommunikation, Astronomie und Hochgeschwindigkeits-Wissenschaften sowie Anzeigesysteme für die Luftfahrt. Das Unternehmen hat seinen Hauptsitz in Ann Arbor/Michigan, wo auch die Produktion angesiedelt ist.
Angebot an hochmoderner Analysetechnik erweitern
"Mit der Übernahme erweitern wir unser Angebot an hochmoderner Analysetechnik und stärken unsere Kompetenz im Bereich der optischen Messtechnik", sagte Klaus Endress, Chef der Endress+Hauser Gruppe. Kelly Ortberg, CEO von Rockwell Collins, erklärte: "Die Transaktion bietet uns Mittel und Wissen, das besser zu den Zielmärkten des Unternehmens passt. Das hilft, das Kerngeschäft – Kommunikationssysteme und Elektronik für die zivile und militärische Luftfahrt – im Fokus zu behalten und zu stärken."
Innovative Technologie mit vielen Möglichkeiten
"Die Raman-Spektroskopie erweitert das Angebot für Kunden in unseren Schlüsselindustrien. Sie ist auf vielen Zukunftsfeldern von Bedeutung, etwa in der Energieversorgung, der Biotechnologie, oder in Labor-Anwendungen – ein wichtiger und wachsender Markt." Kunden könnten ihre Prozesse verbessern und die Kosten senken. "Zudem sind die Möglichkeiten durch Einsatz der Raman-Technologie noch lange nicht ausgeschöpft."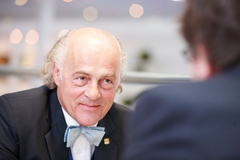 Rockwell Collins
Rockwell Collins Inc. (NYSE: COL) ist ein Pionier im Bereich von Entwicklung und Einsatz innovativer Kommunikations- und Luftfahrtelektronik-Lösungen sowohl für kommerzielle als auch staatliche Anwendungen. Das Know-how umfasst Cockpit-Avionik, Kabinenelektronik, Einsatzkommunikation, Informationsmanagement, Simulation und Schulungen und stützt sich auf rund 19.000 Beschäftigte sowie ein globales Service- und Supportnetzwerk, das 27 Länder umspannt.
22.06.2020 - 26.06.2020

With the help of actual hands-on tasks you will learn how PROFIBUS fieldbus technology works in detail. At the end of the course you will be able to design and commission a PROFIBUS fieldbus network.