Erfindergeist verbessert Produkte

Neuer Rekord bei den Patentanmeldungen. Vier Erfindungen wurden ausgezeichnet.
230 Erfindungen hat Endress+Hauser im vergangenen Jahr erstmals zum Patent angemeldet. Mehr als 240 Erfinderinnen und Erfinder aus der ganzen Firmengruppe kamen beim Innovatorentreffen 2013 im Saalbau "Rhypark" in Basel zusammen, um ihre Entwicklungen zu präsentieren und Erfahrungen auszutauschen. Dabei wurden vier besonders erfolgreich patentierte Lösungen ausgezeichnet. Weitere Preise erhielten Mitarbeiterinnen und Mitarbeiter aus drei Teams, die interne Prozesse maßgeblich verbessert haben.

"Die Zahl unserer jährlichen Patentanmeldungen hat sich seit der Jahrtausendwende mehr als vervierfacht", betonte Michael Ziesemer, stellvertretender Chef der Endress+Hauser Gruppe. "Die Patentanmeldungen sind ein starkes Signal an unsere Kunden: Wir wachsen mit ihnen und für sie". Vier "Patent Rights Incentive Awards" für wirtschaftlich besonders relevante Patente – jeweils mit 15.000 Euro dotiert – gingen an Erfinder von Endress+Hauser.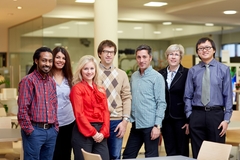 Interne Prozesse verbessert
Neben Erfinderinnen und Erfindern zeichnete Endress+Hauser zum dritten Mal auch Mitarbeiterinnen und Mitarbeiter für herausragende Verbesserungen von Geschäftsprozessen aus. Die mit jeweils 10.000 Euro dotierten "Process Innovation Awards" gingen an drei Teams mit Beschäftigten aus verschiedenen Produktionsstätten, Vertriebs- und Supportgesellschaften. Die besten Prozessverbesserungen des vergangenen Jahres wurden aus 19 Bewerbungen ausgewählt.
Drei Teams aus verschiedenen Produktionsstätten
Ein Team automatisierte die Herstellung von Glasbaugruppen für pH-Sensoren. Das macht die Herstellung effizienter und stellt eine gleichbleibend hohe Qualität sicher. Eine andere Gruppe entwickelte in mehrjähriger Arbeit ein System, um über ein onlinebasiertes Rechnernetzwerk Informationen über Endress+Hauser Messgeräte zugänglich zu machen. Das dritte Team optimierte die Abläufe bei der Auftragsbearbeitung und Konstruktion von Sonderprodukten.
Downloads
Medienmitteilung

Endress+Hauser hat mit seinen Entwicklern einen neuen Rekord bei den Patentanmeldungen gefeiert. Vier Erfindungen, die Produkte flexibel und sicher machen, wurden ausgezeichnet.
22.06.2020 - 26.06.2020

With the help of actual hands-on tasks you will learn how PROFIBUS fieldbus technology works in detail. At the end of the course you will be able to design and commission a PROFIBUS fieldbus network.