Ecograph T RSG35

Erfassen, visualisieren und überwachen zum kleinen Preis
Die Ansprüche an die Prozessüberwachung und Datenaufzeichnung werden immer vielfältiger. Der neue Universal Data Manager von Endress+Hauser erfasst, visualisiert und überwacht sicher alle Messwerte über analoge oder digitale Eingangssignale - denn jeder Messwert zählt!

Benefits
Webserver mit Kurvenfunktionen und Inbetriebnahmemöglichkeit

Bis zu 12 Universaleingänge, 6 Digitaleingänge

4 Mathematikkanäle

Speicherung auf SD-Karte

Field Datamanager Software zur Auswertung
Papierloser Bildschirmschreiber
Der neue Bildschirmschreiber Ecograph T RSG35 ist in vielen Branchen einsetzbar:
Qualität- und Mengenüberwachung in der Wasser- und Abwasserindustrie

Überwachung der Prozesse in Kraftwerken

Anzeigen und registrieren von kritischen Prozessparametern

Tank- und Füllstandsüberwachung

Temperaturüberwachung in der Metallverarbeitung
Intuitive Bedienung und einfache Systemintegration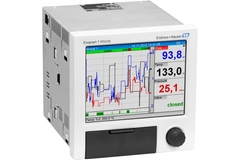 Mit Hilfe des integrierten Webservers sind die Fernparametrierung und die Visualisierung der aktuellen und aufgezeichneten Daten unkompliziert und ohne zusätzliche Software-Installation möglich. Durch seine Vielzahl an modernen Kommunikationsmöglichkeiten erlaubt der Ecograph T RSG35 eine einfache Systemanbindung:
Ethernet TCP/IP, RS485/232 optional

Modbus RTU/TCP Slave optional

E-Mail Benachrichtigung
Klicken Sie hier für weitere Details zum Ecograph RSG35 >>>
Klicken Sie hier zum E-direct Online Shop - Hohe Qualität zum kleinen Preis! >>>
22.06.2020 - 26.06.2020

With the help of actual hands-on tasks you will learn how PROFIBUS fieldbus technology works in detail. At the end of the course you will be able to design and commission a PROFIBUS fieldbus network.