Ein gutes Jahr für Endress+Hauser

Messtechnik-Spezialist konnte im Jahr 2012 ihre Finanzkraft weiter stärken.
Endress+Hauser weist für 2012 wiederum gutes Wachstum aus. Trotz anhaltender Unsicherheit erwartet die Firmengruppe auch im laufenden Jahr eine positive Entwicklung.

"2012 war kein leichtes Jahr", sagte Firmenchef Klaus Endress. Einzelne Märkte seien im Minus gewesen, viele andere im Plus. "Am Ende haben wir unsere hochgesteckten Ziele nur knapp verfehlt." Endress+Hauser steigerte den Nettoumsatz um 11 Prozent auf annähernd 1,7 Milliarden Euro. Bedingt durch die gestiegene Abgabenlast legte das Ergebnis nach Steuern nur um 3 Prozent zu. Mit 183 Millionen Euro markiert es jedoch ebenfalls einen Bestwert.
Finanzkraft konnte weiter gestärkt werden
Die Eigenkapitalquote wurde um mehr als 3 Prozentpunkte auf über 73 Prozent gesteigert. Endress+Hauser verzeichnete über alle Weltregionen Wachstum. Dabei stach die Entwicklung auf dem amerikanischen Markt heraus. "Die großen Treiber hinter unserem Wachstum sind Megatrends wie Energie, Ressourcen und Effizienz, Ernährung, Wasser und Demografie", erklärte Michael Ziesemer, Stellvertreter des CEO.
Mehr als 650 neue Stellen weltweit
Weltweit 10.066 Menschen waren Ende 2012 bei Endress+Hauser beschäftigt. 272 kamen in Europa dazu, davon 162 in der Dreiländereck-Region um Basel. Dass die Marke von 10.000 Beschäftigten überschritten wurde, liegt am Erwerb von SpectraSensors. Das US-Unternehmen entwickelt, fertigt und vertreibt mit rund 90 Mitarbeitenden laserbasierte Gas-Analysatoren. Gestärkt hat Endress+Hauser auch das Kalibriergeschäft durch eine Beteiligung an der irischen Firma CompuCal Calibration Solutions.
Neue Höchstmarke
2012 erreichten die Investitionen eine neue Höchstmarke. Die Summe floss größtenteils in den Ausbau der Fertigungskapazitäten. Das bedeutendste Vorhaben war eine neue Produktionsstätte in Itatiba, São Paulo.
Eine neue Vertriebsgesellschaft in Saudi-Arabien und ein Vertriebsbüro in Abu Dhabi zeugen von verstärkten Aktivitäten im Nahen Osten. In Ho-Chi-Minh-Stadt in Vietnam eröffnete Endress+Hauser ebenfalls eine eigene Präsenz. Zum Jahreswechsel wurde ein Sales Center in Indonesien gegründet.
Ehrgeizige Ziele für 2013
Für 2013 hat sich Endress+Hauser wiederum hohe Ziele gesetzt. Der Umsatz soll um 10 Prozent auf nahezu 1,9 Milliarden Euro wachsen. Beim Betriebsergebnis wie auch beim Ergebnis nach Steuern erwartet das Unternehmen einen leichten Rückgang. Hier schlagen sich rekordhohe Investitionen in Gebäude und Anlagen, Software und IT von 160 Millionen Euro nieder, ebenso gesteigerte Ausgaben für Forschung und Entwicklung. 550 Stellen sollen bis Ende 2013 hinzukommen.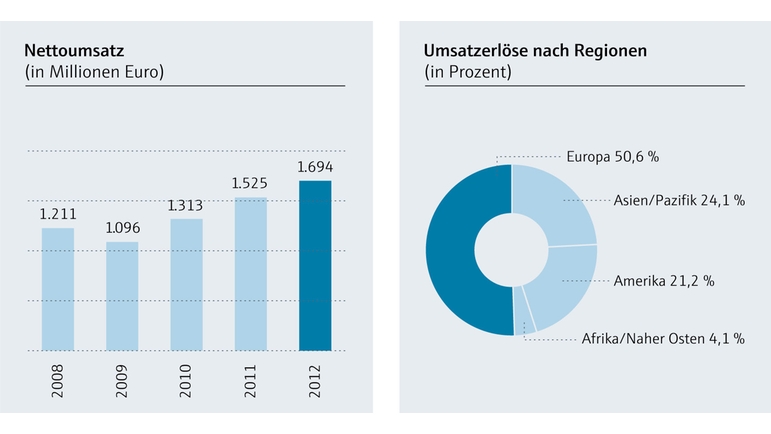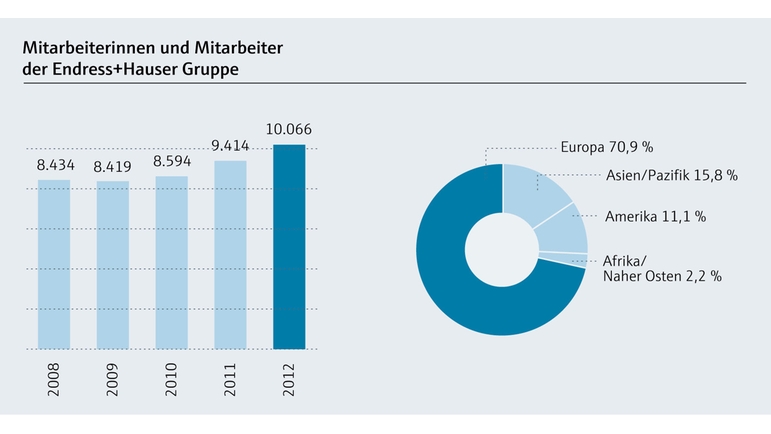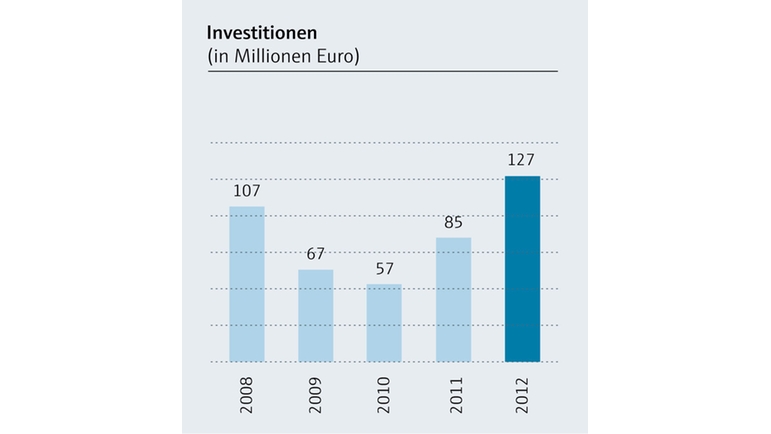 Downloads
Medienmitteilung

Messtechnik-Spezialist setzt 2012 annähernd 1,7 Milliarden Euro um und beschäftigt weltweit mehr als 10.000 Menschen
Simple products

Easy to select, install and operate
Technical excellence
Simplicity
Standard products

Reliable, robust and low-maintenance
Technical excellence
Simplicity
High-end products

Highly functional and convenient
Technical excellence
Simplicity
Specialized products

Designed for demanding applications
Technical excellence
Simplicity
FLEX selections
Technical excellence
Simplicity

Fundamental selection

Meet your basic measurement needs

Technical excellence

Simplicity

Lean selection

Handle your core processes easily

Technical excellence

Simplicity

Extended selection

Optimize your processes with innovative technologies

Technical excellence

Simplicity

Xpert selection

Master your most challenging applications

Technical excellence

Simplicity
Success stories
Build-up monitoring

A water treatment plant in Germany faced the problem of unexpected downtime due to clogged water wells. With Heartbeat Technology build-up index the customer now monitors iron build-up in his process.

Semi-batch polymerization

Monitoring and control of a semi-batch polymerization with Raman analyzer, powered by Kaiser Raman technology

Advanced bioprocess control

From time consuming sample analysis to real-time monitoring of critical parameters in fermentation processes thanks to complete solutions from hardware to development and analytical services.
Multiparameter-Handmessgerät
Liquiline Mobile CML18

Das neue Multiparameter Handmessgerät Liquiline Mobile CML18 ermöglicht eine einfache und zuverlässige Überwachung der Messdaten. Im Labor und im Feld, der Liquiline Mobile ist für viele Anwendungen geeignet und passt in jede Hemdtasche.